Does the feedback in creative writing workshops make for better writing?
whyy.org – Sunday February 6, 2022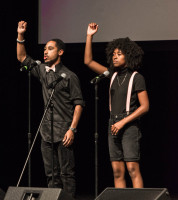 When Yi Wei was a young child, she would write down snippets of English conversations and phrases she heard while watching television. And soon this practice followed her to her early classrooms, where her written responses in her schoolwork would come in fragmented sentences.
"At the time my teachers would be like, 'Oh, this is a poem.' And it was because when I was growing up, I kinda learned to speak through the TV."
Wei is a Chinese immigrant, and she said this is an experience she shares with many immigrants in the United States. She has been writing for years, and now she's a graduate student in New York University's poetry MFA program. But Wei didn't begin writing poems until high school. And she says there was little opportunity for feedback, with the exception of small, informal writing groups she started with close friends.
To read the full article on whyy.org, click here