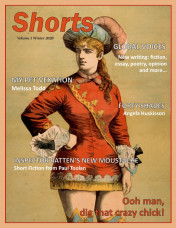 Shorts Magazine
Online Magazine
Last updated: November 25, 2022
Description
Online magazine published four times a year, and includes short fiction, flash fiction, sci-fi, life writing, poetry, essays, science, research, opinion pieces, monologues, drama, top ten lists, photography, featured artists.
Approaches
How to approach
Word file email attachment
What to send
Full text
Author bio
Contact
User feedback
There is not yet any feedback for Shorts Magazine.
If you have had any contact with Shorts Magazine (or have any in future), remember to leave feedback – whether positive, negative, or neutral – to help other users.
Notes for Shorts Magazine
Add
Note
Show
Notes
Hide
Notes
List
Notes
Notes