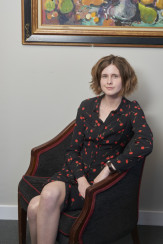 Lucy Irvine
Literary Agent
Last updated: September 21, 2022
Literary Agency
Categories
Adult
Fiction
Novels
Fantasy
Science Fiction
Children's
Fiction
Chapter Books
General
Early Readers
General
Middle Grade
General, and in particular
Adventure
Commercial
Folklore, Myths, and Legends
Picture Books
General, and in particular
Comedy / Humour
Young Adult
Fiction
Novels
Fantasy
Historical Fiction
Romance
Science Fiction
Thrillers
Description
My taste is generally very broad; I represent anything that falls under the Childrens umbrella, from picture books to YA, as well as Science Fiction and Fantasy in the Adult market.

I'm being very selective with the picture books I take on at the moment, but am particularly looking here for funny stories with returnable potential and unexpected twists on popular themes.

My taste in middle-grade books veers towards the commercial; I'm drawn to quick-paced, adventurous narratives with series potential. I love stories set in worlds that pull you in and stay with you long after you've finished reading, and am particularly keen to see original worldbuilding and hooky, plot driven narratives.

On the YA side, I love all kinds of genre fiction, from fantasy to historical to romance to thriller. I'm drawn to romances with a twist, and am particularly looking here for diverse voices and protagonists. SFF wise I'm keen to see original world-building, and love anything that genre bends or offers a fresh take on traditional themes.

Adult wise, I accept submissions in anything that falls under the SFF umbrella, from urban to epic fantasy, from space opera to steampunk, but am not the right person for anything too grimdark, or anything with graphic sexual violence.
Approaches
How to approach
Email
What to send
Query
Synopsis
Writing sample
Proposal
Author bio
User feedback
There is not yet any feedback for Lucy Irvine.
If you have had any contact with Lucy Irvine (or have any in future), remember to leave feedback – whether positive, negative, or neutral – to help other users.
Add
Note
Show
Notes
Hide
Notes
List
Notes
Notes