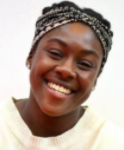 K
____

L

_______

Literary Agent
[ To view the full details you need to subscribe or log in ]
Last updated: April 25, 2022
Literary Agency
Professional Body
Categories
Fiction
Graphic Novels
General
Novels
Comedy / Humour
Contemporary
Crime
Domestic Suspense
Dystopian Fiction
Fantasy
Gothic
Historical Fiction
Horror
Literary
Magical Realism
Psychological Horror
Science Fiction
Thrillers
Upmarket
Nonfiction
Nonfiction Books
Comedy / Humour
Crime
Family Saga
Journalism
Memoir
Narrative Nonfiction
Sport
Description
I love discovering diverse and fresh new perspectives across commercial fiction, literary + upmarket fiction, non-fiction, and graphic novels. I'm particularly a fan of authors with singular voices that masterfully straddle the line between story-telling and teaching readers something new (about themselves, their communities, or the world we live in).
Approaches
How to approach
Online submission system
What to send
Pitch
Synopsis
Author bio
Writing sample
User feedback
There is not yet any feedback for K____ L_______.
If you have had any contact with K____ L_______ (or have any in future), remember to leave feedback – whether positive, negative, or neutral – to help other users.
Add
Note
Show
Notes
Hide
Notes
List
Notes
Notes