International Poetry Competition
Sixth poetry competition winners
The Sixth International Poetry Competition closed on November 1, 2007. Deliberation over the final line-up of winners was long and hard, but by January 2008 the following successful entrants were announced:
Winner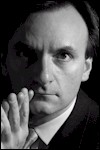 Congratulations to Stephen Hough of New York, United States, who wins £500 (around $1,000) for his poem "Early Rose".
Stephen Hough is widely regarded as one of the most important and distinctive pianists of his generation. From highly acclaimed performances of the central repertoire in recital, in recording, and with the world's greatest orchestras to an interest in contemporary and neglected 19th century works, he integrates the imagination and pianistic colour of the past with the scholarship and intellectual rigor of the present, illuminating the very essence of the music he plays. He was awarded a prestigious MacArthur Fellowship in 2001 in recognition of his achievements, joining prominent scientists, writers and others who have made unique contributions to contemporary life. And in December 2007, the Northwestern University School of Music in Chicago announced that Stephen has been chosen to be the second recipient of the Jean Gimbel Lane Prize in Piano Performance.
Early Rose
The world is
Asleep – sleeping
In those leapless
Limbless hours
When powers fail, save
The billion slopes which
Rise and rose and fall
In a billion breaths on their
Beds of repose.
To the garden, awake,
Tiptoe, quick, go
Slick-stairs down the
Steps to the pre-dew
Night morn before the
Dawn's birth is born.
Follow to the foliage where,
Hidden as the future's
Fall or rise, the rose –
Petals closed – will bud-burst
A billion atoms of beauty.
Let us bend down, our faces
Towards the flower which
Wakes and trembles
In that pause of hour.
Let us say the words which
Shake or stumble
In day's poor prose, pour
Verse into the stamen's
Quivering cup.
So when the day dries
Dreams, wakes dew, and
Sunplay in dazzling green
Or hue, the perfume from
That secret rose will
Breathe our poem to every
Nose: sigh language of love;
Encrypted script of ecstasy.
UK runner-up
Congratulations to Crishanti Jayawardene, of London, who wins £100 for submitting the best entry from the United Kingdom with the poem "Mornings".
Crishanti Jayawardene is a restless freelance writer of Sri Lankan heritage, born and raised in Italy. She graduated from Edinburgh University. She is currently living in London and is dreaming of deserts.
Mornings
This morning light, a rancid Dutch butter
running down the seams of the sky.
After weeks of baring down to bare bones, the
Plane tree seems to want to touch, its icy
pricks spread out stricken. Impotently
it guards its vigilance over loss.
Against the antics of the Baltic wind, last
night's flush of rain, its curdled, clotted yellow mane quivers over the physiognomy
of the foot-smeared street.
Dotted with old butt-ends, the insignia of
their old lips, old breathe.
Squelching under someone's sole, oozing the
very last of life, the last viscous
contaminated gasp. Moribund leaves.
The drainpipe of this year's winter gargles their matted sinews into its
wide throat. Its continued, palpable exhortation a matter of fathomless religion.
Next year, again, there will be more of all this.
US runner-up
Congratulations to Lian Frost of Berkeley, California, who wins $150 for entering the best runner-up poem from the United States, "Aphrodite".
Lian is a graduate of Mills College in Oakland, CA, with a background in literature and music. Her poetry has been published in anthologies and online journals, and her book, City Myths, was published by Literary Road Press in September of 2007. The theme of this book is that classical mythology still abounds in modern urban life. It is based on the rich and vivid experiences she had in discovering that these archetypes are still very much alive and well on our streets, and in our neighbourhoods. The poem "Aphrodite" is taken from this collection and the book is available at: www.literaryroad.com.
Aphrodite
Her temple is a cardboard box
rising above the dirt and grime
of a downtown street corner,
in the rose scented palms
of her life stained hands
common brown pigeons
who gather at her paper altar
proudly flutter and preen
like pearl feather doves.
As she moves
the waves of her passing
break over the barking chatter
of a crowded cafe
turning brackish gossip
into clear fresh pools
that bubble like sacred springs
leaving silver watermarks
lingering on the sand.
A street wise Moses
she parts the asphalt oceans
with a touch of her hand
as human brine and sharks
rise from the gutters
to glimpse a brief halo
glistening in the drops
the residue of her sparkling tide
seashells of gold.
Special commendations
Ten special commendations go out to the following entrants (in no particular order):
Phyllis Jean Green, United States, "Curtained Off";
William Samer, United States, "Mars";
Judson Ziparo, United States, "Young Love";
Jan-Henrik Andersen, United States, "shore appeal";
Laurie Hoffsmith, United States, "Peeling Onions (An Ugly Affair)";
Rosemary McKerrell, United Kingdom, "Growing up";
Ailish Henchion, United Kingdom, "Hunting for keys";
Frances Truscott, United Kingdom, "Church Bells on a Rainy Sunday";
Thecla Condon, United Kingdom, "Picnic at Sandymount";
James Gray, United Kingdom, "Winter Welcome".