The deadline for firstwriter.com's Ninth International Short Story Contest has been delayed by one month to May 1, 2013, to allow for last minute entries.
The competition is seeking short stories up to 3,000 words, and is open to stories on any subject and in any style: literary fiction; genre; romance; horror; science fiction; experimental – all are acceptable and will be treated equally – the only criteria on which they will be judged is the quality of the story and of the writing.
The winner of the competition will receive a cash prize of £200, or the equivalent in your currency (that's around $400). Not only that, but there will also be ten special commendations awarded. All eleven winners will be published in firstwriter.magazine and receive firstwriter.com vouchers worth $36 / £24 / EUR36. These vouchers are enough to cover the cost of creating an annual subscription to firstwriter.com, allowing access to our daily updated databases of over 100 writing competitions, over 850 literary agencies, over 1,400 book publishers, and over 1,600 magazines – as well as the option to receive daily alerts by email of new and updated listings which match your interests.
Another advantage of the firstwriter.com competition is that submissions are made online – saving you the hassle of printing and posting. To enter your story online in seconds go to https://www.firstwriter.com/competitions/short_story_contest/
How I got a publisher
An interview with author, Paul Mercer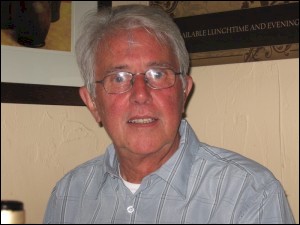 Paul Mercer recently acquired a publisher using firstwriter.com's database of publishers. We asked him about his writing, and how he found success.
fw: Congratulations on your publishing deal, Paul. Tell us a little about the book you placed.
PM: I have two books published. The first is A Tale of The Fisherman's Daughter, which is a powerful novel about a young Italian girl and her rise to the top echelons of power on the back of the Mafia.
The second one, called The German, is a historical fictional novel about a young German boy who overcomes a traumatic experience on his sixteenth birthday to become one of Germany's top fighter pilots during the Second World War. However, his love for a young Jewish girl tries the patience of his superiors with devastating results.
fw: Where did you get the ideas from?
PM: Work and travel in my single days as an aircraft engineer, where I spent ten years living in both Germany and Italy amongst other places.
fw: Did you know back then that you wanted to be a writer?
PM: I think that I have always wanted to write ever since my English teacher once said to me that "anyone who can waffle as much as you can should consider being a writer". However, I did have to wait until I was nearly sixty years old to begin the challenge.
fw: So had you had anything published before?
PM: I have previously been published by an ebook publisher, who unfortunately went broke before I could reap any rewards.
fw: That must have been a terrible disappointment. How did you bounce back? Did you try and get an agent?
PM: Yes. However, agents are like bank managers when you desperately need a loan. They have a vested interest in only taking on those authors they believe might make them money. Forget about moral issues, this market is by far the most difficult one to break into. However, if you are lucky enough to break through the barrier then I am sure agents with their knowledge of the industry could be a benefit, especially with film rights.
fw: Did you try anything else before you joined firstwriter.com?
PM: Before I joined your site I tried just about everything.
fw: So why was firstwriter.com able to find you a publisher, when other options had failed?
PM: You had a broad base of opportunities. However, that did not stop the rejections.
fw: What were the rejections like?
PM: Standard replies, but most never even bother to read your stuff. I know because one time in frustration I left out a number of pages that they had requested and the rejection letter didn't even pick up on it, making me believe that they didn't even bother to look at my work before rejecting it, however no one criticised my work as either good or bad.
fw: So which publisher took you on in the end? How have you found working with them?
PM: Itoh Press. I found that their editing department did a good job and their advice was always useful.
fw: Do you have any tips or advice for other writers trying to get published?
PM: Not really, as getting published in this day and age is all a matter of luck. However, keep on trying, because if you don't it really won't happen.
fw: What are your future writing plans?
PM: I have already written several novels and with luck my publisher will publish them. I live in hope. However, I have one tip for would be writers,
get a website, it is a good form of advertising your efforts. Check out my website at www.paul-mercer.com.
fw: Thank you for taking the time to talk to us, Paul, and best of luck with all your future writing endeavours!
To search over 1,400 book publishers, click here.
Orphic Lyre seeks submissions
Blog zine Orphic Lyre is currently actively seeking submissions.
The zine is available at http://orphiclyre.blogspot.co.uk.

For the details of over 1,600 other magazines, click here

BookDivas.com launches "Ask a New Author" column
BookDivas.com recently launched their "Ask a New Author" column with a new set of newbie authors. For the next several months they will have Jean Ryan, Olivia Chadha, and Mindy Mejia, all from Ashland Creek Press, answering questions about writing and publishing.
The purpose of the column is to give aspiring writings an inside look at how authors who have recently jumped the publishing hurdle did it – from writing advice to getting their publishing deal. Their advice is honest, fresh and from the heart!
Questions can be submitted to askanewauthor@bookdivas.com. Three a month are featured, and one of those will win a $25 Amazon Gift Card.
For more information go to http://www.bookdivas.com/askanewauthor
Scriball: a new website for writers
Scriball is a new website for writers. The purpose is to deliver an entirely new way for people to create web tales and get input from friends to help the stories evolve.
From fan fiction to chick lit, pick your theme and title and let the entertainment begin in this fast-paced reading and writing game. The engagement is incredible with players voting on each line as your word lib evolves. Once your Scriball is finished, share it with the community.
For more information about Scriball, go to www.scriball.com
What US Editors Want 2013
Each year, the Andrew Lownie Literary Agency surveys a wide range of leading publishers and editors to find out what kinds of books they are hoping to acquire in the coming year. This year, for the first time, the agency has invited firstwriter.com to reproduce their findings.
In this article, eleven US editors have kindly explained what sort of books they are looking for this year.
Amy Cherry, Vice President & Senior Editor, Norton

Having just handled the reissues of the 50th anniversaries of A Clockwork Orange and The Feminine Mystique, I've had a chance to contemplate how little we can guess about which books will make a mark. Both these works were bought because they were important and provocative, not because they had any guarantee of becoming the bestsellers they were. That, despite my penchant for quirky books, leads me to the kind of book submissions that I hope to see in the upcoming year. I've started acquiring works in history that go beyond the US, especially ones that take in a great swath of history, like last year's Double Entry, which started in Mesopotamia and ended in the present. I also love biographies and memoirs that speak beyond the lives to be emblematic of the cultures and times in which they were lived. Narrative non-fiction that can balance the writer's voice with a compelling subject is terrific when it works, but tricky to pull off. If I could find a couple of those this year, too, I'd be very happy.

Michaela Hamilton, Editor in Chief of Citadel Press and Executive Editor of Kensington

What we're looking for: At Kensington we specialize in commercial fiction and non-fiction directed to well-defined audiences. Our strongest area is women's fiction, including romance of all kinds and mainstream novels. We also publish westerns, young adult books, memoirs, true crime, thrillers, mysteries, and fiction for the African American audience. My own areas of interest are thrillers, true crime, law enforcement, high-profile memoirs, and mysteries.

Predictions: E-books will continue to gain fans. Publishers will take advantage of the e-format in creative ways, including publishing e-shorts to help build their authors' visibility. Brand-name publishing will continue to dominate the marketplace. Publishers will seek to work with dynamic authors who can write 1 or 2 or more new books per year. Relationships between publishers and authors will become more cooperative as we work together to make books attractive against a sea of competition that includes tv, movies, DVD's, and Internet sites.

Brent Howard, Senior Editor, New American Library

Vivid, exciting narrative history will speak to me year after year, and 2013 is no exception. Working for a commercial imprint can make it a challenge to find projects with wide enough appeal, but I'm always looking for non-fiction by passionate, motivated authors with distinct voices, writing on popular subjects like World War II, the American West, American presidents and sports. I'm drawn to true stories that surprise me and stick with me, stories that make me realize that I never knew as much about a topic as I thought I did. If an author can tell me a true story about our world and hook me with the narrative drive of a novel, I'm sold. I'm also looking for smart, upscale thriller fiction – I'd love to find a writer with the talent of Olen Stienhauer.

Serena Jones, Editor, Times Books

I'm most interested in strong narrative non-fiction, particularly in current events, cultural narrative, popular science, politics, adventure and true crime. I love working with journalists who've uncovered a little-known story or are on the trail of something big. I like passionate writers and love how much you learn along the way as an editor. My favourite acquisitions at Times Books include the upcoming reported memoir of journalist Kim Ghattas' travels with Secretary Hillary Clinton, called The Secretary, and a Dominick Dunne, LA-noir-style true crime book by Matthew McGough tentatively titled The Lazarus Files. My dream acquisition would be something along the lines of In Cold Blood meets Into the Wild

Rob Kirkpatrick, Senior Editor, Thomas Dunne Books, an imprint of St. Martin's Press

I'd say 95% of my list is nonfiction, ranging from Biography/Memoir, Sports, Music, History, and Pop Culture. I had a very nice publishing story this year with The Wrecking Crew: The Inside Story of Rock 'n' Roll's Best-Kept Secret, which saw multiple reprints in hardcover plus very strong digital sales. I'm always looking for opportunities like this - books that catch people surprise. Our biography The Peasant Prince: Thaddeus Kosciuszko and the Age of Revolution was another satisfying experience in that here was this dashing historical figure, an immigrant to our nation who became a hero in the American Revolution and has a score of landmarks in the U.S. named after him, yet very few people today had ever heard of the man. This title also surprised people and went back to press many times. I like the books that feel as if they should have been written before but, for some reason, had not. I also look for personal stories that will be compelling to a mainstream/pop readership, such as my forthcoming memoirs from tattoo icon-turned-fashion brand Ed Hardy, former MTV video jockey Kennedy, sports agent Leigh Steinberg, and radio personality Bryan Bishop. And baseball remains a favourite subject. I published the very first book on Bryce Harper last year, and he went on to win Rookie of the Year. I'm publishing a wonderful biography of Mark Fidrych this spring.

Alex Littlefield, Editor, Basic Books

Basic Books specializes in serious non-fiction, written by experts but aimed at a general audience; we're always on the lookout for authors who can draw on ground-breaking research to provide a fresh perspective on a popular topic. I think this is a tremendously powerful and flexible model, and I've enjoyed testing its limits since joining Basic's editorial team. I work primarily on our history list, and am particularly fascinated by subjects like food, music, military affairs, urban and environmental studies, agriculture, design, fashion, and technology. Some of my recent acquisitions are a history of Brazil during World War II (by historian Neill Lochery) and a natural history of the domestic pig (by historian and journalist Mark Essig). I confess to having slightly offbeat tastes, and love books that take a serious look at topics that are unusual, unsettling, or just plain weird; one of my favourite books remains Jennifer Toth's The Mole People, a study of New York City's underground homeless population in the early 1990s.

Luba Ostashevsky, Senior Editor , Palgrave Macmillan

At Palgrave, we are looking for well written, compellingly argued non-fiction books that are braced by original research in the areas of history, science, current events, politics, and business. We all know the publishing industry is contracting but I think the crunch has forced authors and editors to adhere to higher standards. My search for books in 2013 will be for projects that are consequential: they might treat an overlooked historical event and tell a textured and vivid story, but to make it stick we'd want to know how that event impacts us today. An author might take on a problem that we deal with daily but approach it through the lens of new research or reinterpret it in a surprising way that sheds new light on our lives.

This past year, I've done well with underreported topics – did you know thorium is a safer alternative nuclear energy? Neither did most people, and Superfuel by Rick Martin received wide recognition. Did you know the author of the Norse myths was a twelfth century Icelandic chieftain as unruly as the gods he created? Song of the Vikings was an Indie pick (consortium of independent bookstores). I've had an author take a current events topic susceptible to reader fatigue – how to help underdeveloped nations –and make a hit out of it. In The Big Truck that Went By by Jonathan M. Katz finds out what happened to your generous donation in the wake of the tremendous earthquake in Haiti three years ago.

And of course to reach a broad swathe of the market, we are looking for an accessible narrative style that makes reading a pleasure.

I hope I haven't raised the bar extraordinarily high. We all prefer raising glasses to a job well done instead, and some of the best books I've seen have had some imperfection in them that at the start you think will damn it but in the end saves it and gives it a human feel with which the reader connects.

Robert Pigeon, Executive Editor, Da Capo Press

My commissioning portfolio comprises history, military history and biography. Three of my recent frontlist books are just coming off a fantastic holiday season: Dog Company by Patrick K. O'Donnell, John Quincy Adams by Harlow Giles Unger, and the paperback edition of Pearl Harbor Christmas by Stanley Weintraub. Interestingly, these three titles fit my portfolio's three categories. And I couldn't help but note that, like all of our most successful books in these categories, these three recent hits shared the following characteristics: knowledgeable, engaged and committed authors; rich and textured storytelling; a distinctly human dimension; a recognizable and immediate resonance in today's world; and a "handle" that can be expressed in one short, catchy phrase or sentence. So there; that's my "formula" and I'm stickin' to it.

Daniela Rapp, Editor, St. Martin's Press

I am looking for serious narrative nonfiction, particularly in history. What appeals to me most are those untold or overlooked stories that make for a vivid and informative read in the hands of a writer who can truly bring them to life. Even better if these stories are still culturally, politically, or socially relevant to us today. I'd also love to see books in the pop science genre, including those based in medicine, biology, and physics. Books that will teach me something I didn't know already, and books that make me think. Ideally, the authors of these books are experts in their field with the capability to explain at times complex matters in a way that a trade audience can appreciate. On the fiction side of things, I am desperately seeking high-concept stories, books that feature unreliable narrators, unexpected twists, or that surprise me in their plotting or set-up. I love mysteries, suspense, and thrillers, but am hoping for the ones that don't just follow the usual patterns, the ones that are just slightly "out there." That said, I absolutely need a plot (even in literary fiction), and one that moves forward relentlessly. Voice and character are important, but if nothing happens I generally lose interest. I have always been a voracious reader, and the books I'd like to acquire, in any genre, really, are the ones that give me the same wonderful feeling of escape, learning, and emotional investment I experienced as a kid when I couldn't put down the book I was devouring. If it will keep me reading into the wee hours of the morning, I'll definitely want to publish it.

Michael Szczerban, Editor, Simon & Schuster

I'm looking for fiction for male readers, both literary and commercial, as well as non-fiction on technology, culture, science, food, business, and adventure. My background is in computer science, and I am particularly interested in the way our culture and commerce are being affected by technology. Like any reader, I love a good story and for a writer's passion and curiosity to be palpable – so I look for work in which the pulse of narrative is strong, or fresh arguments that are punctuated by a lively voice and provocative or stirring insights. And for me, it never hurts to have a sense of humour.

Bill Strachan, Editor at Large, HarperCollins

The pat response is "good books that sell," but since you never know what a book will sell until after publication, I'll shorten that to "good books." I acquire non-fiction, so I'm on the lookout for works by authors who are expert in their fields–this past year I was proud to publish Wine Grapes by Jancis Robinson, et al.– and those writers who can make nearly any subject interesting. In the latter group I tend to like narrative histories and works that bring a new perspective to a subject that may have been considered previously – no books on Lincoln, though. I also have a soft spot for works of natural history and place. Harper Collins is very invested in digital publishing, so I also need to acquire books in the genres that readers on electronic devices find attractive. For me, that's strong narratives (again) and works on pop culture, especially music.
About the agency
The Andrew Lownie Literary Agency, founded in 1988, is one of the United Kingdom's leading boutique literary agencies with some two hundred authors. It prides itself on its personal attention to its clients and specialises both in launching new writers and taking established writers to a new level of recognition. Books represented have included Norma Major's history of Chequers; the memoirs of Sir John Mills, Alan Whicker, Gloria Hunniford, David Hasselhoff, Emily Lloyd, Kerry Katona and Patrick MacNee; the best-selling fostering series by Cathy Glass and Casey Watson; Sam Faiers' Living Life the Essex Way; and Daniel Tammet's international best-seller Born on a Blue Day.
When writing, welcome the unexpected
By Marcella Simmons
I'm not really sure where this article is going, but so far the message is simple: write regardless of where the story takes you, and welcome the unexpected twists and turns as if you were on a roller coaster ride. Let the unexpected heights, twists and turns take you to a new level of "high" until your story finally comes to an end.
Not all writing is like that but when the "unexpected" happens, go with the flow and let the words go like there is no tomorrow. Don't hold back – there's time for editing and revision later – there's time for the "expected" to be filled in after the excitement is over.
There are times when we writers can cram thousands of words into a story at one sitting and they all seem to come out right. Then there's times when a blank page stares back at us for hours, and nothing is as it should be, and words just seem forced and unnatural.
Today was one of those days. I had absolutely nothing in mind to write about until I was reading a short writer's tip online about welcoming the unexpected. For some odd reason, this article took form in my mind, and it wasn't long till I knew it had to be put on paper.
Thinking back to a few weeks ago I was working on a children's story idea. I planned the story out in my mind was I showered. I lay awake that night trying to figure out a way to make an old story idea into something new. Before morning broke, I had written two children's stories to submit to Highlights for Children after I did the necessary polishing and revision. Needless to say, both stories of 1,000 words each are now on their way to a publisher in hopes of being adopted by the editor and published very soon. The unexpected happened and I now have hundreds of other story ideas for the series of children's stories that I am working on.
I'm not sure what will become of my stories or if they will get published or not, but I do have that hope and that good chance because I know both stories are good. I submitted them to an editor online and although he rejected both of them, he informed me nicely that: "Each of your stories are well-written but not suitable for our publication. Although fairy tales have been rewritten many times and both of your stories are nothing new, they are very good. Good luck in finding a publisher for your work." Sincerely, kind editor...
When you sit down to write, and it seems like you can't get the words out fast enough, write! Write as fast as you can think it and let the unexpected be your guide. Where you end up no one knows but you never know when your story might be the best one you've ever written. Let them flow naturally – this is the best writing.
If you can't seem to make yourself write anything, take a short walk or take a shower. Let your mind ponder over several ideas until something comes to you. When it does, that's the time to let it out and don't stop until the end of the ride. The loops, twists and turns in your story will make for an interesting read, I'll bet!
About the Author
Marcella has been writing professionally since 1988 – with over 700 published credits in over 300 small press publications nationwide, including several local newspapers, she continues writing for several publications and websites such as this one. In 2005, her first book of poetry entitled Bittersweet Morsels, was published.
Marcella is working on several romantic suspense book projects at this time. "Writing is a way of life for me. I couldn't imagine 'not' writing. One of my many passions is writing for children – some of my stories appeared in Primary Treasure, Christian Educator, The Vision and many others," Marcella said. "In 1991, I graduated from THE INSTITUTE OF CHILDREN'S LITERATURE: Writing for Children and Teens; WRITER'S DIGEST SCHOOL: Nonfiction Writing; and ICS School of Short Story/Journalism," she continued. "I enjoy writing and teaching others how to write".
Marcella leads the Toledo Bend American Christian Writers group in Logansport. She also publishes a magazine for writers called The Writer's Monthly Review. Marcella is a member of the American Christian Writers ACW, Shreveport Writer's Group and the Attoyac Writers' Guild in Center, Texas.
Resources for writers at firstwriter.com
Go to firstwriter.com for the following invaluable resources for writers:
To advertise on this newsletter for as little as $30 / £20 click here
About fwn
fwn is a no-cost newsletter from firstwriter.com, providing articles, news, interviews and other items of interest to writers.

Spelling conventions
fwn uses English spelling conventions. Spellings such as "realise" "colour", "centre", "cancelled", etc. differ from other spelling conventions but are nonetheless correct.
Writing Contests
Enter our Poetry Contest and Short Story Contest for kudos and awards!
Editorial Services
Put an end to rejections!
Get your work ready for presentation to publishers, agents, and magazines, with editing, advice, and feedback from professionals in the publishing industry!
Gift for a WRITER
Give a writer the perfect gift – a Gift Subscription to firstwriter.com!