Short story contest – deadline delayed!
The deadline for firstwriter.com's Third International Short Story Contest has been delayed by one month to May 1, 2007 to allow for last minute entries.
| | |
| --- | --- |
| | War Poetry Contest Deadline-May 31: $5,000 in prizes, including top prize of $2,000. Submit 1-3 unpublished poems on the theme of war, up to 500 lines in total. Enter online or by mail. Guidelines. |
The competition is seeking short stories up to 3,000 words, and is open to stories on any subject and in any style: literary fiction; genre; romance; horror; science fiction; experimental – all are acceptable and will be treated equally – the only criteria on which they will be judged is the quality of the story and of the writing.
The winner of the competition will receive a cash prize of £200, or the equivalent in your currency (that's over $300). Not only that, but there will also be ten special commendations awarded. All eleven winners will be published in firstwriter.magazine and receive firstwriter.com vouchers worth $36 / £24 / EUR36. These vouchers cover the cost of creating an annual subscription to firstwriter.com, allowing access to our daily updated databases of over 140 writing competitions, over 700 literary agents, over 700 book publishers, and over 750 magazines – as well as the option to receive daily alerts by email of new and updated listings which match your interests.
Another advantage of the firstwriter.com competition is that submissions are made online – saving you the hassle of printing and posting. To enter your story online in seconds go to https://www.firstwriter.com/competitions/short_story_contest/
This month at firstwriter.com we have received so many calls for submissions that we have compiled them all below in a special section:
Poetry on the theme of family
Capital BookFest '07 seeks poems for publication in a book related to the theme of family. Specifically, we are looking for poems that explore the rituals and relationships of familial life. Authors will receive two copies of the book, publishing credit, and retain copyright to their work, in exchange for the right to include their poem in the Capital BookFest '07 coffee-table book.
Poets may submit up to two poems of any length. Poets must control the rights to the work they submit. Previously published poems are acceptable. Submissions must be sent in the body of an email message (no attachments) to blackwords@juno.com (Subject line should say "CBF Poems"). Please include full contact information (snail mail address, phone, email) and a four-line bio.
Submission Deadline: May 15, 2007
Cancer anthology seeks poems
Anthology requires submission of poems about cancer, cancer survivors, and cancer victims. Please send 3–5 poems of any length, a biography listing any previous publications, and indicate if you are a cancer survivor, or if you are writing about someone affected by cancer. There is no fee and published writers will get a free copy of the final book.
Poems should be sent by post with SASE to Poetry Anthology, PO Box 43, Norwich, NY 13158; or by email to hotmetalpress@hotmail.com, with "Poetry Anthology" in the subject box and the poems and other information in the body of the email. This collection's goal is to benefit cancer patients, cancer survivors, and those who are close to them as they deal with issues of despair, love, loss, grief, and hope. For further information go to: www.hotmetalpress.net (April issue).
Submission Deadline: June 1, 2007
Call for inspiring true stories
The best-selling Cup of Comfort book series is actively seeking uplifting true stories for five new volumes. Stories must be uplifting, original, and 1000–2000 words. Preference given to narrative nonfiction stories that read like fiction. $500 grand prize; $100 ea. all other stories published, plus copy of book. No entry fee. Email submissions to wordsinger@aol.com; no attachments; one story per email; include your name and mailing address. Writer's guidelines: www.cupofcomfort.com (click on Share Your Story).
A Cup of Comfort for Horse Lovers
This anthology celebrating the powerful, almost magical, bond between horses and humans will feature inspiring true stories that reveal the extraordinary impact these magnificent creatures have on the people who ride, own, raise, train, race, care for, and rescue them. We want stories that portray horses as companions, helpers, messengers, healers, teachers, heroes, and inspirational forces in people's lives as well as stories about the incredible things that people do out of love for a horse or horses.
Submission Deadline: May 15, 2007
A Cup of Comfort for Cat Lovers
Cats are among the most fascinating, entertaining, and endearing pets on earth. For this collection, we seek the best cat stories never told-original and compelling testaments to the deep connection between cats and the people who love them as well as heart-warming and humorous tales about truly amazing felines. Most of the stories in the book will be about domestic cats (pets), but we are also interested in stories about feral and exotic cats.
Submission Deadline: July 1, 2007
A Cup of Comfort for Breast Cancer Survivors
It has been said that "stories are medicine" and that "one of the most valuable things we can do to heal one another is to share our stories." This volume gives the healing power of story to women (and men) who have survived breast cancer, enabling them to share their inspiring triumphs and courageous trials with others who have beat breast cancer as well as with those who are currently dealing with breast cancer. We want uplifting stories about the experiences and emotions involved in battling and surviving breast cancer. Possible story themes include but are not limited to: diagnosis, treatment, emotional impact, support systems, healing practices, coping mechanisms, effect on loved ones, effect on personal and/or professional life, life after recover, prognosis, positive post-cancer outcomes.
Submission Deadline: August 15, 2007
A Cup of Comfort for Spouses and Children of People with Alzheimer's
What happens when the person who raised you or the person with whom you raised your children slowly becomes a child who doesn't know you? What if that loved one changes so drastically that he or she is virtually a stranger to you? What if that person is difficult to deal with and requires substantial assistance? How will the reality of having a spouse or parent with Alzheimer's affect you and your family-emotionally, financially, physically, socially, personally, professionally? The inspiring stories in this collection will answer those questions and more-and will show how love prevails and how lives thrive when a spouse or parent has Alzheimer's.
Submission Deadline: October 15, 2007
A Cup of Comfort for Divorced Women
Divorce in the 21st century should come with an instruction manual, a release valve, and a support system. This anthology will serve essentially those three purposes, in the form of comforting, insightful, and inspirational stories about surviving and thriving during and after divorce. We seek uplifting, contemporary stories on a wide range of topics of importance to divorced women-including but not limited to: dating, children, relationship with ex, in-laws, finances, friends, solitude, personal transformation, healing, revenge, mending fences, the ex's new wife or lover, empowerment, rediscovery of self. The majority of stories will be written by women who are or have been divorced. Stories can be poignant, irreverent, humorous, witty, or wise.
Submission Deadline: December 31, 2007
Poems sought for "Love by Region" anthology
"Love, By Region" seeks poems from across the country that talk about love of self, family, community, individuals, issues, desires, environment, country, statehood, culture, ethnicity, children, spouse, friend, siblings, parents, etc. If you think there's a particular way that love is expressed in your region as opposed to how it is expressed to someone next door, then show this in a poem. Submissions can be sent by email to LBRsubmissions@aol.com.
Submission Deadline: June 1, 2007
Writing that responds to music sought
Shaking Like a Mountain seeks submissions of fiction, creative nonfiction and poetry that responds to specific songs, musicians, or bands of the writer's choice. Nonfiction should be a personal narrative, rather than a review. Prose should generally be under 3,000 words, though longer works will be considered. For submission guidelines go to http://www.shakinglikeamountain.com/submit.htm
Tracking Amazon sales rank
By David Mercer
"davidm at contechst dot com"
www.contechst.com
Drupal: Creating Blogs, Forums, Portals & Community Websites
osCommerce: Professional Edition
I have been a published author for over seven years now and if there is one thing I can't stand about the industry it's waiting! Waiting for the book to get through production, waiting for it to hit the shelves, waiting for someone to buy it, waiting for the first paycheck, and, most importantly, waiting to find out how my book is doing.
Anyone who has written any material that is published has no doubt suffered from the same angst and frustration at how long it takes to get feedback on your precious work of art. I recall the first time I wrote an entire book myself (up until that stage I had mainly contributed chapters to other people's works) – I spent most of the first week after publication refreshing the book page on Amazon to see if there were any new reviews or if the sales rank had improved.
Doing this soon became quite tedious and while I was still eager to find out how my book was doing, I just couldn't waste more and more time looking at the same page over and over and over. What made it worse is that while it was always nice to see the sales rank drop to the low thousands or high hundreds every now and then, this didn't really give an accurate impression of how well it was doing.
Looking around on the internet was a bit disheartening because it seemed that a lot of people are of the opinion that the Amazon Sales Rank doesn't tell you anything and that I had been wasting my time. This struck me as odd because it seemed that Amazon had put a lot of effort into building the Sales Rank Facility – surely they weren't sucking thumb on the numbers?
In time for my next book's release I stumbled across RankTracer.com, and was surprised to see that they actually provide sales estimates as well as tracking your sales rank. I have been tracking all my books as well as a few others using this service ever since, and instead of checking on Amazon I get RankTracer to email me notifications of reviews or when my Sales rank drops below or above a certain point.
What's more, I get them to send me a PDF report of all the titles I am tracking every week and every month, which is useful because I have finally gotten too lazy to even visit the internet to check how my books are doing (now that I no longer have to). They have a sample report up on their website at http://www.ranktracer.com/sample_report.pdf if you want to take a look. As you'll see they have all the sales rank stats, weekly or monthly sales totals, as well as graphs and product review information.
What I find really interesting is the way in which the site is built to allow you to make comparisons and contrast the information you record. They have what they call a WorkStation, which is a single web page that uses AJAX to present a nice and intuitive interface for interacting with your Sales Rank info – there are a lot of options that allow you to view and group your information in a variety of different ways.
For example, I wanted to see how the new Richard Dawkins book, The God Delusion, was selling in comparison with my own titles (not that I would expect my sales to compete in any way, but just to see the difference in sales volumes). Using RankTracer's graph building interface, I drew this up for a week's period using the 3-D graph option (they have several different types of graphical representation of your data):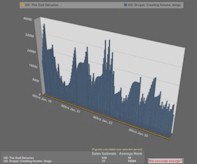 The God Delusion is the trace in front (in yellow), with my sales rank graph in blue (click image for larger version).

Ok, so the actual image may not be too clear here, but hopefully you can make out the fact that my book is seriously lagging behind Mr Dawkins'. Notice that his graph almost appears flat because his ranking has averaged at 19 for the past week, whereas mine averaged about 19,000. Looking at the bottom of the graph you should also be able to see the sales estimates given for each title. In this case, the God Delusion sold about 510 copies during that week, but my book only sold 31.
I have been tracking my book a lot longer so to give you an example of a different way of looking at the collected data, I took a snapshot of my sales rank graph over the last month using a range format grouped on a daily basis (instead of hourly as the graph above shows):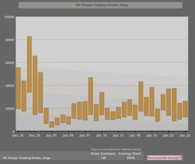 My sales rank range grouped by day over the last month (click image for larger version).
From this you can see that sales picked up for a few days in early January after a bit of a slowdown in December – each bar indicates the range between the best and worst ranking for that day. As always, the RankTracer Sales Estimation Engine provides an estimate for that month's sales – in this case it gives an even 130 copies sold at an average rank of about 20,000.
Apart from tracking the Amazon Sales Rank for your own book I find it quite nice to track a bunch of my competitors' titles to see how well I'm doing in the context of my little niche. It's quite useful knowing exactly how everyone else is doing because I find it helps me determine where I got things right and where I went wrong.
Most of all, because the sales rank information is collected on an hourly basis I can tell in near-real time the impact of any advertising or articles that I or my publisher have released. It's incredible to see the dips in rankings as articles or reviews are posted to various Websites – one time my book got a great review on Slashdot and RankTracer recorded an improvement in sales for about three weeks after this.
It's gotten to the stage where my publisher often asks me how my book is doing because it's easier for me to find out than for him to go search their records. Sooner or later, I guess all publishers will have to wake up and start providing this service to their authors, but for now I am happy receiving my weekly updates to keep me up to speed with the goings on in the world of Amazon – I'll leave the competitive analysis for the marketers, publishers and advertisers.
There's actually quite a bit more to do and see at the RankTracer website, but hopefully you have a good idea of what is on offer in the way of Amazon Sales Rank tracking and Amazon Sales Estimates. Enjoy.
About the Author
David Mercer is a programmer and professional writer who has been writing both code and books for about seven years. He has worked on a number of titles on a wide variety of topics which has afforded him a unique oversight of the world of technology as it relates to furthering the goals of business.
David finds the challenges arising from the dichotomous relationship between the science (and art) of software programming and the art (and science) of writing is what keeps his interest in producing books piqued and intends to continue to write professionally in the future.
As a consultant for his own technical and editorial consultancy, David balances his time between programming, reviewing, writing and furthering his studies in Applied Mathematics. When he isn't working (which isn't that often) he enjoys playing guitar and getting involved in outdoor activities ranging from touch rugby and golf to water skiing and snowboarding.
You can contact him at davidm@contechst.com, or alternatively, visit his consultancy's website at http://www.contechst.com
Resources for writers at firstwriter.com
Visit firstwriter.com for the following invaluable resources for writers:
To advertise on this newsletter for as little as $30 / £20 click here