Poetry contest winners and new magazine
This month, firstwriter.com has announced the winner, runners-up, and special commendations of its Fifth International Poetry Competition, as well as releasing Issue 10 of firstwriter.magazine, opine.
Rebecca Snape, of Daventry, United Kingdom, was announced as the winner of the competition for her poem "Ordinary Blue", and wins £500. Gerald Ryan, of Roselle, wins $150 for submitting the best entry from the United States with his poem "Hourglass Flash", and Malcolm Wilson of Rickmansworth wins £100 for entering the best runner-up poem from the United Kingdom, "Rush Hour". The winning poems can be read online at https://www.firstwriter.com/competitions/poetry_competition/previous_winners/5thpoetry.shtml.
All the winners will also be published in a future issue of firstwriter.magazine, and receive vouchers worth £20 / $30 – as will the ten Special Commendations:
Sara Ridgley, United Kingdom, "Gift of Life";

Shikha Aleya, India, "anklet";

Nicole Giambalvo, United States, "Voice, Voice";

Tina Wey, United States, "Excerpts from";

Kendra Wiseman, China, "A Boy Called";

David Brewer, United Kingdom, "listen";

George Carle, United Kingdom, "Winter Way";

Camille Osborne, United Kingdom, "Tumescence";

Ron Buck, United States, "Three Toes Plucked";

Christina Robinson, United Kingdom, "Maternal love".
The Sixth International Poetry Competition is currently underway. To submit your work for the chance of winning £500 (that's nearly $1,000) click here
firstwriter.magazine Issue 10: opine
The latest issue of firstwriter.magazine has also just been released, featuring quality fiction and poetry submitted from around the world, plus your first chance to see not just the winning story from our Second International Short Story Contest, but also all ten Special Commendations. To view the magazine click here. To enter your work in our Third International Short Story Contest click here.
All those whose work has been included in issue 10 have now been notified, so if you submitted work for issue 10 and have not received notification of inclusion then, regretfully, on this occasion your submission was not successful. Please do feel free to try again, however, through www.firstwriter.com/Magazine
How I got a literary agent
An interview with author Frank Hotchkiss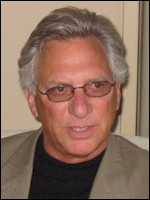 Frank Hotchkiss recently acquired an agent using firstwriter.com's database of literary agencies. We asked him about his writing, and how he found success.

fwn: Thanks for taking the time to talk to us, Frank, and congratulations on placing your book with an agent. What is your book called, and what is it about?
FH: My book is called One Fine Day, and it is about a quadruple amputee fed up with his life as a near-vegetable, but who has, to his surprise, one terrific day that changes his mind and his life.
fwn: Where did you get your idea from?
FH: I got the idea out of my head. I wanted to show that it is possible, even in the worst circumstances, to be happy.
fwn: How long did you spend writing it?
FH: It took about a year to write it. I write slowly – 4–5 pages a day, and I don't push it. I follow the characters' inclinations and let the action and plot evolve from them. After I finish, I go back and put on other layers, perhaps even adding a character or two and a plot point, like a painter putting on additional layers of paint.
fwn: Is this the first time you've written a book?
FH: This is my third book.
fwn: So you've been writing for a long time, then?
FH: I have made my living in one way or another writing for a long time, first as a journalist, then as a public relations executive. I also had a column for the Los Angeles Times Syndicate called America on the Road, about car-related subjects (not necessarily cars themselves). I have had short stories/articles published in newspapers and magazines (Trailer Life, Des Moines Register, Los Angeles Times, some defunct computer magazine (can't recall the title)).
fwn: Do you think your previous publishing record helped when you were trying to find an agent?
FH: I can't say if it is important that one has published before. I suspect it isn't. Agents don't seem to give a damn. You almost wonder if they even read what you send them. I must have solicited 300 agents before finding one who liked my book and who I thought might do a good job representing me.
fwn: How did you go about trying to get your book published? Did you start trying to find a literary agent straight away?
FH: Yes, I started looking for an agent for this book first. I had an agent for my previous books (unfortunately she never got them published, but she did try), but she hated my latest book, so we parted ways.
fwn: How did you go about trying to find an agent?
FH: For the most part, I looked in Editor and Publisher, then went on-line, but finding your site made life a lot easier. Many thanks, once again. The fact that you identify which agents take online submissions, which don't, and which handle fiction (my field) was immensely helpful. Also, the individual writers' comments are an excellent feature, as
you can foretell which agent is going to be a jerk. I have run into some real jerks, believe me, with absolutely no taste but oodles of arrogance. None of these were on your site, or I would have lambasted them, I promise.
fwn: And which agency signed you?
FH: Bennett-West and I signed. They are personable and are doing a good job to date.
fwn: Do you have any general tips or advice for other writers?
FH: Believe in yourself, write as well as you can, and enjoy the process. Even if no one else ever reads your book, you should get great satisfaction from the writing. On occasion, I was reduced to tears by my characters. What a privilege!
fwn: Thanks very much for your time, Frank, and best of luck with getting the book published!
To search firstwriter.com's database of over 700 literary agencies yourself, click here
A coach for all seasons
By Linden Gross
My career as a writing coach almost ended as abruptly as it started. Having written a book proposal for a Harvard lecturer, I agreed to coach her in the writing of the book itself. I knew from the proposal process how disorganised she was in mind and office, as well as how convoluted and repetitious her writing was – a style, it would seem, that is beaten into academics. The Rescuer in me made me do it. Still, I had confidence that I could talk her through the steps. As her deadline loomed, however, it became clear that what she really wanted was for my fingers to do the walking on the keyboard, not hers. She wanted me to do most of her thinking as well. I bowed out of the relationship when it became clear that, despite my best efforts, she couldn't – or wouldn't – meet her goals. Our amicable parting became much less so upon presentation of the final bill, which has yet to be paid.
That experience might well have put me off the writing coach business forever. But taken together, the paths of my life all seemed to lead there. A writing tutor in college, upon graduation I taught in a one-room school house in the Sierra. I switched gears some years later, and got a job as an assistant editor at the Ladies' Home Journal. Actually, upon the advice of a man who had granted me an informational interview, I had applied for their associate editor opening. "You're not remotely qualified, but go for it anyway," he told me. A week after my interview, the senior editor with whom I'd interviewed called. "You're not remotely qualified for the associate editor position," she announced. "But we're going to try to fill that in house. If that works, the assistant editor position will be open. And that, you're qualified for."
As assistant editor, and associate editor a year later, I assigned stories, edited and rewrote copy, and trained interns. Ditto at the Los Angeles Times Magazine, where I worked as Special Features Editor before going freelance in 1987. I was a writing coach already, I just didn't know it.
By 2003, I had written countless magazine articles, authored two books, collaborated on two, ghost-written two – including national bestseller The Legacy of Luna – and doctored, yes, two. With the big 5-0 (looming in my not-so-distant future) in spitting – or should I say hawking – distance, the fact that I had yet to write that novel or the kids' books I've harboured inside was making me crazy. I imagined my tombstone: "She could have written great stuff but she was too busy writing everyone else's stuff." Besides, after sixteen years in a very solitary home office, the extrovert in me was yearning for a little more human contact.
An agent provided me with just that. Not my agent, mind you. I heard from a friend of a friend, who happens to be an agent in San Francisco, that another agent – Linda Mead – needed help organising and writing a book proposal. I outlined her book for her, whipped the overview into shape and rewrote the sample chapter. The work wasn't exactly easy, but working with Linda was. Confessing to an obsessive tendency to re-write the book's first paragraph over and over instead of moving forward with the bulk of the text, she asked me to coach her. I agreed without a second thought. Okay, so I learn the hard way.
It could have been dejà vu all over again. Instead, we developed a routine that worked. I outlined each chapter as she got to it, moved relevant material from her transcripts into position, and provided direction on what to flesh out. Before she would start writing, we'd review what needed to be done and discuss how best to accomplish the tasks. She called if she hit a roadblock. Otherwise, we chatted once a week. I played "The Strict Task-Mistress" when I had to, and offered an ear, sympathy, feedback and encouragement otherwise. Picture a pseudo therapist with a cheerleader's pom-pom in one hand and a riding crop in the other and you get the idea. The result? The pages quickly mounted, and she could no longer procrastinate through revision because I edited the chapters as quickly as she churned them out.
I was really starting to enjoy this writing coach business, which was just as well since I had another client. Linda recommended me to a fellow agent with a writer who had proven incapable of getting a handle on the memoir she was penning. The writing was splendid, the agent explained, but without an outline – which the author just couldn't produce – she couldn't take it to market.
The pages that Ida Alamuddin had composed were indeed powerful and poignant. My first reaction was to question my own conceit that I had ever called myself a writer. Though the language did need minor sharpening and tightening, I felt that I was in the presence of a master. The master, however, had no idea how the splendid chapters she had crafted fit together, or of her memoir's overall focus. Yes, it revolved around her life. But that was the problem. Too much had happened, and in the process of trying to sift through those events and weave in the historical and thematic strands of her book, she had gotten lost. Most of us know the experience of feeling so close to our material that we can no longer clearly see where we're going. Having lived the trauma she was writing about, Ida was doubly blinded, as well as consumed by a sense of aloneness in the face of a task that threatened to consume her.
Before we could even discuss the outline, Ida needed to get me up to speed about the events not covered in the medley of chapters she'd written, as well as the history and culture of Lebanon, the setting for her memoir. The easiest way for her to do that was to write to me. Her letters, some up to ten- and twenty-pages long, not only gave me the background I needed, they provided background that the book needed as well. Whole chunks are now just waiting to be woven into past and future pages. As soon as I had the necessary background, we met to discuss the parts of Ida's life about which she had not yet written. Five hours, pages of handwritten notes, many tears and two glasses of wine later, we had identified all the pieces and shared at least one epiphany. I can't vouch for this scientifically, but from experience I know that you reach into different parts of your brain when you write than when you talk. Brainstorming is just that: you storm your brain, often from unexpected directions. As a result, you get to places that you can't reach by writing alone.
Early the next morning I drafted a rough outline, which we reviewed together over the phone, combining some chapters, adding others. After two hours, we had a framework that made us proud. That evening, Ida sent me an email. "Thank you, Linden. You gave me your all. Despite all of the difficulty and violence and misfortune in my life – the ongoing pain – I am the luckiest person, the luckiest person in the world to be working on my book with someone like you. Thank you, my friend, for your energy and focus and understanding, and most of all your belief in me and my story."
And there, for me, lies the reason that I will cultivate my writing coach business which through word of mouth, advertising and my website http://www.lindengross.com/wordrx.html now extends to over a dozen clients. Instead of writing for and with non-writers who will never understand and appreciate what it takes to produce a book, I can offer aid and support to writers in the midst of the creative stew. I will help prep and stir and season and strain, and once it is done, we will feast together. And when I finally turn to my own writing, I will remember that I, too, am not alone.
Resources for writers at firstwriter.com
Visit firstwriter.com for the following invaluable resources for writers:
To advertise on this newsletter for as little as $30 / £20 click here
In this issue:

Spelling conventions

fwn uses English spelling conventions. Spellings such as "realise" "colour", "theatre", "cancelled", etc. differ from other spelling conventions but are nonetheless correct.

News:

Fiction apprenticeships
Apprenticeships in Fiction offers five placements for aspiring novelists to receive apprenticeships with professional
writers, worth £2,000 each. Four finalists receive subsidised places, while the winner receives a free bursary.

For more details click here

For over 300 publishers of fiction, click here

Poetry anthology seeks submissions
Poems on the theme of "roads" are sought for a New Poetry Monthly Press special.

The "roads" can be literal, spiritual, or both, and submissions will be accepted on the subject till the end of
October, 2007.

Submissions should be kept separate from regular submissions for the magazine, and should be marked "Road". Submissions can be sent with SAE to 39 Cavendish Road, Long Eaton, Nottingham, NG10 4HY, or by email to poetrymonthly@
btinternet.com

For over 140 poetry publishers, click here

BlueCat Screenplay Competition open
The BlueCat Screenplay Competition has opened for entries with a deadline of March 1, 2007. First prize is $10,000, and
one finalist's script will be read on stage at BlueCat's annual SCREENPLAY LIVE at the High Falls Film Festival in New
York. The cost of entry is $45.

For more information, click here.

For over 150 other contests, click here

Select Six website moves
Select Six website has a new web address. The website can now be found at http://www.bewrite.net/
select_six.htm. Submissions, reviews, and links are welcome. Up to six poems can be submitted, and accepted poems are displayed on the website among the "select six".

For over 400 poetry magazines, click here

Poems for the Iraqi people
The deadline for the challenge to write a poem for the Iraqi people has been extended to May 2007.

Poems should convey something you wish to express to the Iraqi people and should be sent to Gift of Words, c/o Cynthia Bryant- Poet Laureate of Pleasanton, PO Box 520, Pleasanton, CA 94566.

More details can be found at www.poetslane.com

WriterOnLine is an e-publication dedicated to writers and lovers of writing. Fiction, poetry, business and technical writing, how-tos, articles, reviews, freelance markets, jobs for writers and much more, published bi-weekly. Completely renewed! Visit us at www.writer-on-line.com