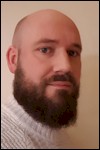 Staying positive about publishing
By J. Paul Dyson
Editor, firstwriter.magazine
One of the great things about working on a writers' site is that you get to see a lot of enthusiastic and exciting new writers. The flip side of this, however, is that you also meet a lot of jaded, bitter writers, who have come to the conclusion that there is some kind of "problem" with the publishing industry, given up any hope of ever seeing their work in print, and spend their days whinging about the terrible scourge of capitalism in the publishing world, blinding people to the value of true art.
The reality, however, is that the problem these writers face is that they have never decided why they were writing, or what they wanted to achieve by it. Without knowing what their goals were, it's little wonder they failed to achieve them.
So the first thing you must do to avoid this pit of pessimism is be clear in your own mind about why you are writing and what you want to get out of it. The answer is usually assumed to be "to get published", but this is a dangerous assumption to make. There are all kinds of reasons why people write: people write diaries and journals which are never intended to be read by anyone; people write because they have an urge to – because they enjoy it, or as catharsis – almost therapy; some write to be part of a society and have a hobby; others because they want to influence people; others for fame (whether on a small or large scale); and others simply for money. By and large, however, it boils down to one question: are you writing for others or are you writing for yourself?
Those who end up bitter are usually those write for themselves: they write the story they want to read; the message they want to send. There's nothing wrong with this, but it's important to recognise if you're writing for yourself that your audience consists of one person: you. Whatever your personal motivation, once you've had your fun writing your book (or reading it), benefitted from the cathartic experience, met some new friends through a writing club because of it, or whatever your personal motivation happens to be, it's important to recognise that your book's job is then done. It has succeeded in its purpose. It doesn't need to ever leave your house, or even the computer on which you wrote it. It doesn't need to go to a publisher, because it has already reached its target audience of one – it doesn't need to be shown to anyone else – it doesn't even matter if it is never read again. It has already achieved its goal.
Of course, for some lucky people the product of their personal motivations will, accidentally, coincide with a publisher's requirements and their book will be published anyway – but if you decide that publication is your goal from the outset then you need a distinctly different attitude: you need to write for other people, because that's what publication is for: to enable your book to be read by others. You need to write for agents, for publishers, and (above all) for the public. There's no point writing for yourself and then being disappointed when nobody wants to publish it – that's like inventing a product only you can use, and being surprised when companies aren't interested in mass-producing it.
And, yes, you are going to have to start thinking about your book as a "product". That's the point of publication: it's a process which turns your book into a marketable commodity for sale for profit. This is the point at which authors recoil in horror – their book isn't a commodity, it's art! – and if that's how you think that's fine – just don't send your book to any publishers. By making publication your goal you are stating that you wish to market your book as a commercial business interest. If that's not true then don't approach publishers, because they're commercial businesses. Don't open a market stall and then get offended when people try to buy and sell your wares.
If you don't want your art sullied by money then keep it between you, family and friends, and maybe small literary outlets. Don't send it to companies whose only purpose is to make money from books(!). Judge it a success on its own terms and be at peace with yourself and your writing, and with the professional writers whose role it actually is to satisfy the public's demands (that's right, they haven't sold their souls to the corporate devil, they're just doing their jobs).
If you want to be published and become one if these professional writers, however, set this as your goal from the outset and accept the mindset: you are beginning a commercial enterprise and aim to be a professional within the publishing industry (costs generated in the course of your writing are a legitimate business expense for tax purposes, even if you don't make any money). You are a supplier of raw materials, and the publishing houses are your customers. Your customers are always right. It's your job to supply your customers with the products they require in order to satisfy the market's demands. To achieve this you must be responsive to your customers and to the trends within the marketplace.
This kind of language is alien to the isolated author sat at their keyboard "being creative", but it's exactly the environment into which your manuscript will be heading when it enters the publishing business. Purge from your mind any notion that books will be published on the basis that they appeal to the editor who reads them – at any big publishing house the people reading the manuscripts are likely to be graduates not long out of university, with a standard form to fill in for any proposed new product – and it won't be covering how many times the reader laughed, or how rapidly they turned the pages. It will be full of numbers. It will cite similar titles already in the marketplace, sales figures, production costs, likely marketing budget, likely sales and return on investment over various numbers of years; placement within the market: whether it will conflict with and take market share away from existing titles by the same publisher; whether it captures any strategic market share; and, of course, a bottom line. Most companies will have a simple minimum profit margin, and if the numbers come in below it the book gets rejected (unless it's of unusual strategic value). If the numbers come in above the minimum profit margin then it will probably go off to the department's manager for possible approval, where it will either get accepted and signed off, or passed over for a similar book from another writer, which has 50 fewer pages and therefore lower production costs and, in turn, higher potential profit margins.
If you're not willing to accept this kind of business approach to writing then your world is that of the small literary magazine and the small literary press: people who publish niche literary works for the love of them, not for profit. Stick to this area and aim to become a part-time writer with notoriety within a small literary field. You'll have a much better chance of success, more realistic expectations, and avoid the bitterness that can arise from the inevitable stream of rejections that commercial publishers will give for non-commercial works.
If you are determined to be a commercial writer then remember that the publishing houses are your customers, and that you are the equivalent of the double-glazing salesman who knocks on your door in the middle of your dinner, or the salesperson who calls during your favourite show to try and get you to change electricity supplier. You're just another person trying to get someone to buy something they didn't ask for and probably don't want. Just imagine the publishing houses of the world are actually the consumers on your steet, and every day you and a swarm of hundreds of double-glazing salesmen descend upon it. Do you have a God-given right to be the 200th person to knock on someone's door in a week? Are you really entitled to be angry with them and bitter if they say "no thank you, we already have double-glazing"?
So, to stay positive in publishing, make sure you know what you want out of your writing, and that you target your efforts accordingly at the people who will actually be interested. Remember that if you fail to sell your product it's a problem with your product, not the people you're trying to sell it to – it's your job to give them something they actually want to buy. If you do, they'll buy it. Remember that you're a salesperson – a pest – a nuisance – and be grateful if people are just polite and patient with you. Remember that you're making an imposition of yourself. A little humility will go a long way...
How I got a literary agent
An interview with author Rae Phillips

Rae Phillips recently acquired an agent using firstwriter.com's database of literary agencies. We asked her about her writing, and how she found success.

fw: Congratulations on securing an agent, Rae. What was the book you managed to place?

RP: My book is called The Lady and Pierre. Maggie in her middle years, for the first time in her life, faces two life crises. First an illness and then the death of a beloved husband. The story begins with Maggie planning her suicide and ends with the magnificent accomplishment of a two thousand mile hike and climb to the top of Mount Katahdin in Maine. She is accompanied by Pierre, her standard black poodle. The story is positive and has a whimsical slant and reveals courage, humour, and the strength of the human spirit.

fw: Where did you get your inspiration from?

RP: I worked in the medical field for many years as the Chemistry Supervisor in a hospital laboratory. Through those years, even though I know the importance of established medical knowledge and procedures, I felt there was so much to be learned from alternative means and ways to wellness. I wanted to write a positive book dealing with these issues. I also hiked parts of the beautiful Appalachian Trail, the 2000 mile foot trail from Georgia to Maine with my husband and daughter and wanted to relate some of the wonderful experiences of that time.

fw: Once you'd had the inspiration, how did you get down to the nitty-gritty of getting it down on paper?

RP: When I retired, my daughter sent me a computer, a copy of 2003 Writer's Market, a subscription to Writer's Digest, and made a pact for me to send pages to her every Sunday morning of the work I had done that week. It took almost a year to write. I had such wonderful encouragement, but for new writers, if you have a story to tell, put these reminders over your desk or your computer:

"GRIM DETERMINATION –I WILL NOT FALTER"; and

"WRITERS WHO PERSIST GET PUBLISHED"

fw: Have you always written, or is it something you've only started recently?

RP: I wrote stories and poems for my children while they were growing up with no thought of being published. However, when I was in high school, I had this vision of myself, sitting beside a small brook and writing stories. And I have always loved any story or movies about writers and have always wanted to be one of them.

fw: Do you think the fact that you hadn't previously been published made it harder to get a literary agent?

RP: I really believe if you have the story they have been waiting for, it won't matter. When they read your query, something inside of them has to click. Therefore it is so important to send queries to agents that are looking for your type of work. And so important to get feeling into your query.

fw: Absolutely – being selective about agents is an important point all too often ignored by writers, who often make the mistake of blanket submissions. How selective were you, and what were the results?

RP: In 2004, when I completed my manuscript, I sent about 11 queries to agents and two to publishing houses and got back rejections on form letters or postcards with "NOT FOR US" scribbled across the top. Only one agency asked for my manuscript and read it. They said they seriously considered it but were going to pass at that time. I really got discouraged and put the book aside until 2005.

fw: What made you try again in 2005?

RP: In 2004, I used the usual method of trying to find an agent, Writer's Market. But in the summer of 2005, my daughter sent me an email about firstwriter.com and as they say: the rest is history.

fw: What was it about firstwriter.com that you found particularly helpful in getting an agent?

RP: Everything! Best of all was finding agencies that accept email queries. What a way to go! Finally, I feel we are in the 21st Century. Before it was weeks and weeks of waiting for replies. This time I received replies the same or next day. And although they were rejections they were so kind. They all started with "Dear Rae" and almost all of them offered advice or help or encouragement. I received one reply 5 minutes after I had sent it. It was a rejection but I was so excited, I felt like I had died and gone to heaven. Instead of these far away places that were so awesome and formal, here came emails from people that could have been friends writing to you. That is the beauty of emails. It lets real people come through.

fw: Did you personalise your approaches, or use a standard one?

RP: I basically sent the same query in the beginning. I hated writing them. How was I going to tell the story it took 300 pages to write on one page? But then came email queries, and I decided to just write what I would write if I were telling my sister about my book. I followed all the rules for queries, telling the genre of the book, who it would appeal to, etc, but I managed to get in all the excitement and wonder of how I felt about the book. All on one page because no one likes long emails. Then, of course, I needed to find the person that was looking for that type of book.

fw: And how many approaches did you make this time?

RP: After finding firstwriter.com I sent out 5 queries to publishers and 5 queries to agencies, before Catt LeBaigue with the Heacock Literary Agency accepted me.

fw: That's really quick. How do you think you managed to grab their attention?

RP: I think my query struck a cord with Catt and she could feel what I was trying to get across. I think she knew I was sincere in my wanting to write a book that could actually be a fun read, and at the same time give hope to women (and men) in common life crises.

fw: And how have things changed now you have an agent?

RP: Having Catt for an agent is like having a new friend, one that shares the same vision that I have. She recently sent me this line: "We will work together for many years and much good will come of our efforts, good that will benefit people all over the world". Truthfully, it can't be any better than that. Catt has edited my manuscript with excellent professional advice and continues to offer encouragement on my writing.

fw: Do you have any more books in the pipeline?

RP: I have started a new book, I have about 15 written pages, and tons of notes. But I will need to do a lot of research.

fw: What would you say to other writers still trying to get accepted?

RP: Keep in mind that it is the story that counts. Make it the best story ever told. A lot of writers say that help comes to them from above while they are writing. If you don't believe in higher beings helping you, then ask for help anyway, it may come from higher beings or your own higher consciousness. It helps you to get in that zone where all creative efforts arise.

New writers: remember quitters never win, and winners never quit.
Resources for writers at firstwriter.com
Visit firstwriter.com for the following invaluable resources for writers:
To advertise on this newsletter for as little as $30 / £20 click here
In this issue:

Spelling conventions

fwn uses English spelling conventions. Spellings such as "realise" "colour", "theatre", "cancelled", etc. differ from other spelling conventions but are nonetheless correct.

News:

Call for writing on war
Farafina is asking for previously unpublished submissions on the theme of "War" for its November/December online issue. Stories, poems, essays, cartoons, memoirs, and photos are welcome.

Contributors are asked to interpret the theme as widely as possible. Send your submissions to info@farafina-online.com on or before October
15, 2005.

For the details of over 550 other magazines click here

Advertisement

TOM HOWARD/JOHN H. REID POETRY CONTEST - LAST CALL
Postmark Deadline: September 30
Prizes of $1,000, $400, $200, plus four Encouragement Awards of $100 each. Winning entries will be published. Submit poems in any style or genre. You may submit work that has been published or won prizes elsewhere, as long as you own the anthology and online publication rights. Entry fee is $5 for every 25 lines, payable to Winning Writers. International entries welcome. Submit online and pay with a credit card or mail to Winning Writers, Attn: Tom Howard Poetry Contest, 351 Pleasant Street, PMB 222, Northampton, MA 01060 USA. Winning Writers is one of the "101 Best Web Sites for Writers" (Writer's Digest, 2005). More information: www.winningwriters.com

R. Alsted withdraws from agenting
Robert Alsted, who had operated as a literary agent representing health and martial arts material under the company name "R. Alsted, Ltd", has ceased to offer literary agenting services.

Robert cites a lack of profitability as the reason for this move, which will allow him to concentrate on other aspects of his consulting practice. He declined to offer any information regarding the status of his current clients or any submissions currently under consideration.

If you have had dealings with this agency and require any clarification over this move contact robert@ralsted.com.

For over 600 other literary agencies click here.

Essays on women's busts required
Rack: Women Write about Their Br___ts is an anthology which will aim to share the stories of women who have had extraordinary and ordinary experiences with their bust-lines. The editor seeks first-person nonfiction accounts between 3,000 and 5,000 words of moments and experiences that illuminate the moving, confusing, and often hilarious experience of having a female chest.

Likely topics include: piercings; implants; experiences of modern-day moms; mastectomy;cosmetic problems; binding; shopping for a first bra, etc.

Send essays to Abby Schwartz, PO Box 620720, San Diego, CA 92162-0720. Response will be by email unless requested otherwise and SASE supplied.

Articles and reprints sought
The Dabbling Mum is looking for your reprints. Did you write an article dealing with the craft of writing? How about a humorous personal essay dealing with a parenting issue? Did you write an article about building a specific home business or marketing your business on the internet?

If so, stop by thedabblingmum.com and submit your reprint today.

New articles and/or queries also welcome. Payment is $20–$40 per new article, $5 per reprint.

For over 550 other magazines click here

Wergle Flomp winners announced
Dr Alan Farrell has been announced as the winner of the fourth annual Wergle Flomp Poetry Contest, sponsored by Winning Writers. Dr Farrell's poem, "Blaming of Parts", was judged the best of 1,398 entries from around the world, winning him $1,190. The winning entries are all published at www.winningwriters.com.

The goal of the Wergle Flomp Poetry Contest is to educate poets about "vanity contests". These are contests which appear to be selective but whose main purpose is to beguile poets with flattery and get them to buy expensive products like anthologies, chapbooks, CDs, plaques and silver bowls. Vanity contests will often praise remarkably bad poems in their effort to sell as many products to as many people as possible. The Wergle Flomp Poetry Contest seeks the best humor poem that has been submitted to a"'vanity contest" as a joke.

For more information, please see www.winningwriters.com

For the details of more than 200 other competitions, click here

WriterOnLine is an e-publication dedicated to writers and lovers of writing. Fiction, poetry, business and technical writing, how-tos, articles, reviews, freelance markets, jobs for writers and much more, published bi-weekly. Completely renewed! Visit us at www.writer-on-line.com