Competition winners and new magazine issue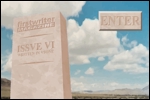 This month sees two long waits come to an end, with the announcements of the winners from our Third International Poetry Competition (see below for the winning poems), and the release of issue #6 of firstwriter.magazine, Written in Stone.
New magazine issue
This issue of the magazine is the biggest yet, but has also been the most difficult to get into, with less than 4.5 per cent of the submitted stories being accepted, and less than 2.5 per cent of the submitted poems. Those lucky enough to be included have already been notified, so if you haven't heard from us then, unfortunately, on this occasion you weren't selected (either that or you've changed your email address!). Please don't take it too badly – as you can see from the figures this is a tough magazine to break into, but once you have it's a credit worth having, so if you'd like to submit again we are now accepting submissions for issue #8. To send in your fiction of up to 3,000 words and your poems of up to 30 lines each, please go to www.firstwriter.com/Magazine.
Competition results
Congratulations go out to Maria Grech Ganado of Madliena, Malta, who wins the first prize of £300 for her poem, "Arena" (see below). The US runner-up was Suzann Kole, of Maine, who wins $75 for her poem, "Heartless Waking", while Kate Potter from London takes the UK runner-up prize of £50 with "Sundays".
Ten special commendations were also awarded to the following entrants:
Thea Biesheuvel, Australia, "A Woman's Eyes";

Kimberlee Edgecomb, United States, "Rainy Daze";

Jackie Goodman, United Kingdom, "Balnakiel Bay";

Courtney Heidenreich, United States, "Anonymous";

Guy Jones, United Kingdom, "Hopeful Poem";

Kerry Kubilius, United States, "Hula Girl";

Patricia Lewis, United Kingdom, "Dyslexic";

Annie Neal, United States, "Waking Up in a New Place";

Eva Van Loon, United States, "Easter. Sylvan Lake, 1956";

Clare Walker, United Kingdom, "The Living Room".
All the thirteen winning poems will be published in issue #7 of firstwriter.magazine, with the writers receiving free annual subscriptions upon publication. Our Fourth International Poetry Competition is now underway. For your chance to win this year's first prize of £500 (that's nearly $1,000) go to https://www.firstwriter.com/competitions/poetry_competition.shtml
Here are this year's three winning poems:
Arena
(Winner) By Maria Grech Ganado
You won't remember me. I used to be
someone who made a lot of noise, hoping
to hide the jangle in her head. Like soccer
it was – the running up, down, sideways
after a ball which at the time was bigger
than the earth, though like the earth it was
kicked round to allies, wrested from foes.

Actually, perhaps it was my eyes which were
the balls – I couldn't see with all that roaring
going on. The lions seemed accustomed
to the crowds, on home-ground – but up close
I could have sworn, that there were arms behind
the nets, not always waving. Perhaps the jangle
was for thumbs, or toes…

Then there were those who went on about God
and hollow spaces – transforming roaring into
singing, because His Love is sweet, even when
your team has lost and you've gone home alone
to wash your feet.
No, I can't see how you could
remember. I don't mix much. At most all you'd
recall was someone merely human laughing
idiotically, cowering in her arena, afraid
how it might show she was of the same breed.
Heartless Waking
(US Runner-Up) By Suzann Kole
A spittle of low tide
sticks rough to a beard of rock –
my body wrapped around
the new cold of morning
pulls in breath
of resignation
as crows blacken
the yellow air and shoulders
of turf pulse hard
bargains through a stiffened,
sombre wind. These days,
terraced like fins,
form a fragile shielding –
transparent around
our lithe, aqueous bodies
now occluded within
the geometric hours... when
just last night, moon
flattened its cheek
against the lawn
in a bleach of muslin –
iridescent with dew;
while trees dissolved, then
withdrew into thirsting
dark, before dawn's
heartless waking.
Sundays
(UK Runner-Up) By Kate Potter
This day shreds the weather to fragments of rain
that splinter the window. I trace my finger down
the watery tracts along the glass.
I can hear sighs heaving like hills
and the sounds of the father dozing,
screening out the distant rumble of his family breaking
and the mother plastering over the cracks that silence leaves behind.
The sleuth of an early night licks the secrets
you hide under your pillow, dragging them out
to where you see them with your third eye,
pinning a cavern of unspoken words to your breast.
As you sleep to the stability of Monday,
you grasp the sanctity of sheets around you
like a winter landscape to hide beneath.
Write on holiday
By Dave Simpson
www.writeonholiday.co.uk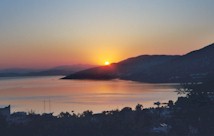 Can you teach someone how to write?
I ask that question because my wife, Diane Whitley, and I are setting up creative writing courses in Bodrum, Turkey, for next Spring. My daughter, Becky, has also recently started a three year BA creative writing course at Leeds University.
The simple answer to the question is "yes" – and "no". It all depends on talent. If you have some talent, no matter how raw, attending a writing course will help you understand more about your own writing and give you insights into character, dialogue and structure that previously you probably hadn't thought much about. You'll also learn about the market. If you have no talent, you'll still have a great time on a course, but you're never going to make it as a writer. Apart from that talent you also need to be totally focused, have a steely determination, an absolute belief in yourself – and some luck.
I spent ten years writing and submitting plays before I ever sold one (a radio play). I wrote over 50 plays that were mostly, to be kind on myself, poor. I was writing in the dark, stumbling around, not knowing what I was really doing, only believing that I had some talent, however latent, and that I was going to become a professional writer one day and prove all those people who rejected me that they were wrong. I came from a working class background where there were no books in the house, I was never taken to the theatre – except to see variety shows. Yet from about eighteen all I ever wanted to be was a writer and I have no idea where that came from. I trained to be a teacher and finished up in Basildon New Town, a cultural desert. I never met nor talked to writers. During those ten years I wrote in isolation – though towards the end of that depressing period I received encouragement from the BBC and Royal Court, actually being invited in to meet them. I was also close to getting a children's novel published. It was little nuggets like these that kept me going.
In those days there were no BA creative writing courses, no Arvon Foundation. But what if there had been? I'm convinced that if I'd attended one of those courses I could have knocked five years off the time it took me to sell my first play. I was making basic, fundamental errors which would have been pointed out, the course would have given me confidence, I would have had more direction to my writing. How do I know this? Well I've since tutored for Arvon at Lumb Bank, and I've seen first hand how some of the writers I've taught have gone on to success (one now writes for Coronation Street). Paul Abbott will readily concur that the Willy Russell course he attended at Arvon made him realise he could be a writer. Tim Firth also attended a Willly Russell course – they now run courses together! These are just a few examples. Yes, Paul and Tim would have become writers anyway, but these courses made a difference.
Running creative writing courses in the sun is something Diane and I have talked about over the last few years. I've had such a broad experience in my writing career – radio, theatre, television and film – and I've learnt so much – and I think it's time I passed on some of that to other aspiring writers. Also from a personal viewpoint, I've spent 25 years in a room on my own (apart from theatre residences and rehearsals) and when I've run Arvon courses I the past I've always found them mentally stimulating and socially enervating – so hopefully running the Bodrum courses is going to be equally stimulating!
We went out to Bodrum last March to look at property – we chose Turkey because it was financially viable as property prices are still 15 years behind France, Spain and Portugal – and we found a three-bedroomed detached villa with a three-bedroomed apartment underneath it. We are currently having a swimming pool built. The property is big enough for eight students, plus the tutor.
Write-on-holidays has a very similar ethos to Arvon – but with the sun! We aim to attract high quality, high profile writers across a number of genres who can pass on their skill and expertise to new writers or writers with some experience. And because the courses are in the sun, we aim to generate a relaxed, holiday spirit where the emphasis is equally on social interaction as well as writing. For instance there will be a complete free day to explore the Bodrum peninsular and the evenings will also be free. The courses run from Monday to Monday, whereas at Arvon courses run Monday to Saturday, so there's much more time to relax.
We start the courses on May 23, 2005.
The courses are as follows:
May 23, 2005
Writing for performance
Course tutor: Willy Russell
Support tutor: Dave Simpson
May 30, 2005
Writing for television
Course tutor: Kay Mellor
Kay's course is about writing drama series, drawing on her own series such as Fat Friends, Playing the Field and Band of Gold.

June 6, 2005
Writing for soap opera
Course tutor: Ken Blakeson
Support tutor: Dave Simpson
Ken has written Coronation Street (the United Kingdom's longest-running soap) for 15 years. I was on Emmerdale for 4–5 years. As these soaps usually require writers to submit a trial script, the writers will be given an actual episode storyline that has already been transmitted. They'll be asked to do a scene-by-scene breakdown of that episode before starting to write it. Then on the final night, they will watch the actual episode that they have been writing.
June 13, 2005
The story of your life
Course tutor: Julia Darling
Julia Darling, the celebrated poet and novelist of Crocodile Soup and the Booker long-listed novel, The Taxi Driver's Daughter, will look at autobiographical experience and how to turn this into creative fiction/poetry/drama.
June 20, 2005
Poetry
Course tutor: Jackie Kay
Jackie is an award-winning poet and novelist. Her collection of poems, Other Lovers, won the Somerset Maughan Award and her first novel, Trumpet, won the Guardian Fiction Prize.
Jackie's course will include tutored workshops, one-to-one feedback and advice on crafting and re-writing, with emphasis on contemporary poetry.
June 27, 2005
Starting to write: fiction/drama/short stories
Course tutor: Stella Duffy
Stella has written eight novels, the latest of which, State of Happiness (Virago), was long listed for the 2004 Orange Prize and has been optioned for feature film development.
This is a course about beginning – no matter what style, genre, field or interest.
If any writers are interested in joining us, you can give us a ring on +44 (0) 1422 845819 for more details, or you can check out our website: www.writeonholiday.co.uk or e-mail us on: info@writeonholiday.co.uk

Knock-out writer's block: listening to your inner voice
By Celise Downs
When I was young, I used to talk to myself. Long, drawn out, one-sided conversations. I didn't have an imaginary friend, I just talked to myself. My mother says that's why I became a writer: because of my overactive imagination. I admit she may be right. Those conversations currently get me through my worst cases of writer's block.
I have to laugh when I read articles on breaking through a writing slump. They always have tips like: "go to the mall and make up a story about the
people you see there", or "write down a dream you had the other night", or "think about the happiest moment in your childhood and write about it". You can even sign up and have a writing "prompt" emailed to you everyday. And I can't help but think, does this work for anyone? I mean, really? I've come to discover that I'm not like the average author. The normal methods of combating writer's block do not apply to me. In writing mode, I can only concentrate on one novel at a time. I get distracted easily, so writing something on the fly only leads me down one path: The "Hey, I just came up with another great idea for a new book so I'm gonna drop the one I'm currently angsting over and start a new novel" path. Believe me, it's happened before. I was young (seventh grade, to be exact), just starting out, and I didn't know any better.
Now, I just put the novel away... and wait. The wait has been known to last six months to a year. Sometimes longer. For others, the time frame may be shorter, but eventually they will come. The inner voices, I mean. I no longer hold verbal one-sided conversations with myself. My characters have one-sided conversations with me... in my head. When they start talking to me about dialogue and plot, that tells me it's time to pull out the novel and jump in again.
So, go on. You try it: open up your mind and listen to your inner voice. If we ever meet at a conference or a book signing and you tell me that you've been hearing voices, I won't think you're crazy. I promise.
Resources for writers at firstwriter.com
Visit firstwriter.com for the following invaluable resources for writers:
To advertise on this newsletter for as little as $30 / £20 click here
In this issue:

Spelling conventions

fwn uses English spelling conventions. Spellings such as "realise" "colour", "theatre", "cancelled", etc. differ from other spelling conventions but are nonetheless correct.

News:

New press launches with writing contests
This month has seen the launch of Cinnamon Press – a new press based in North Wales with an innovative publications programme encompassing poetry, nonfiction, and full length fiction. We are open for submissions and currently have two literary competitions with prizes of £100 (poetry) and £500 (fiction) plus contracts for the winners to publish a first novel or first poetry collection.

Full details can be found at cinnamonpress.com.

For details of more than 200 other writing contests, click here

Website seeks articles by writers, for writers
Website seeking articles helpful to experienced freelancers, written by writers for writers, for inclusion in bi-weekly online magazine.

Humour is good. Reprints happily considered (as long as they haven't been published all over the net).

Paste article (350-700 words) and previous publication info in the body of the e-mail message (no attachments) and send to submissions@
justmarkets.com

Compensation: $10 via PayPal on publication or three-month subscription to JustMarkets Daily, a $30 value, on acceptance.

Website: www.justmarkets.com

New publisher seeks submissions
Writing Ltd Literary Consultants will be launching their publishing company, with three books, in 2005.

They are now open for submissions and are looking for talented writers with an original style and unique voice. If that sounds like you please do be in touch.

For submissions they would need the first three chapters and a synopsis posting to the address below, and if material needs to be returned it is important to include a stamped addressed envelope.

Send your submissions to:

Keirsten Clark
Writing Ltd
www.writing.co.uk

Submissions
Writing Ltd
Neville House
Wendens Ambo
Essex
CB11 4LB

Poetry magazine needs new editor
A well-established poetry magazine is looking for a poet of catholic interests who would become responsible for its health and development as its editor and develop further its service to poets in general and the literary community in general.

Due to considerable pressure from ongoing responsibilities for his family and other commitments, the current editor has, sadly, found it necessary to relinquish active participation as editor of the well-established Peer Poetry International Magazine (1995) and its associated website. No transfer fee is involved other than a free copy of succeeding issues.

See what is actively involved by taking a look at www.publish-your-
poetry.co.uk, the associated website, which is still in course of development.

All the considerable details, filing, records and pending accepted submissions for future publication (enough for two magazines) would be
transferred to the new carer.

Warning: Unless whoever takes on this responsibility is unusually talented, the magazine could involve that individual in a moderate loss (certainly of time plus some cash at their discretion) rather than in a profit – but the reward will be immense satisfaction in seeing the development and flowering of individual poets – some of whom will be exciting and exceptional.

You would also have the opportunity of offering encouragement to the deserving and caution to the over-ambitious writer. It will give a great deal of pleasure and take up considerable amounts of time. You could also get a Lottery Grant.

The present editor would be delighted to offer a lot of initial help in providing a satisfactory change-over to a philanthropically inclined,
enthusiastic poet/administrator, who would then be free to direct the magazine and its competition in whichever direction that individual felt to be effective. Copies of some past magazines are available to enquirers, together with IT tools that would be useful and a well-protected broadband and email connection.

Further enquiries can be directed to the editor at peerpoetry@msn.com.

You will find more information on the web about Peer Poetry International and about the editor, Paul Amphlett, in "The Poetry Kit" and the World Haiku Club web site.

Contact:
Paul Amphlett, 26 Arlington House, Bath Street, Bath, North East Somerset, BA1 1QN, United Kingdom.

Tax and personal finance authors needed
Internet radio talk show hosts seeks authors on tax and personal finance topics as possible on-air guests. Current hot topics include Social Security reform, credit card legislation, bankruptcy reform.

Planned topics for 13 weeks (to May 25, 2005) available upon request by e-mail to jfdunphy@
verizon.net. For examples, see archives at VoiceAmerica
Radio.com , under self-help, "Poor Richard's Shoebox.com".

Audience is general consumer, emphasis is on organising records properly, to lessen stress due to people having to make important financial decisions in a crisis, on the basis of incomplete or missing key records.

Contact by e-mail: jfdunphy@verizon.net

WriterOnLine is an e-publication dedicated to writers and lovers of writing. Fiction, poetry, business and technical writing, how-tos, articles, reviews, freelance markets, jobs for writers and much more, published bi-weekly.
www.writeronline.us