Writers' Newsletter
Issue #245
August 2023
Writers' Handbook 2024 now available to buy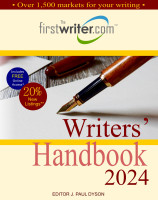 firstwriter.com – Tuesday August 8, 2023
The 2024 edition of firstwriter.com's annual directory for writers has just been released, and is now available to buy both as a paperbook and an ebook.
The directory is the perfect book for anyone searching for literary agents, book publishers, or magazines. It contains over 1,500 listings, including revised and updated listings from the 2023 edition, and 400 brand new entries.
Finding the information you need is now quicker and easier than ever before, with multiple tables and a detailed index, and unique paragraph numbers to help you get to the listings you're looking for.
The variety of tables helps you navigate the listings in different ways, and includes a Table of Authors, which lists over 5,000 authors and tells you who represents them, or who publishes them, or both.
The number of genres in the index has expanded to over 900. So, for example, while there was only one option for "Romance" in the previous edition, you can now narrow this down to Historical Romance, Fantasy Romance, Supernatural / Paranormal Romance, Contemporary Romance, Diverse Romance, Erotic Romance, Feminist Romance, Christian Romance, or even Amish Romance.
The new edition includes:
Over 650 literary agents and agencies;
Over 450 magazines; and
Over 600 publishers that don't charge fees.
International markets become more accessible than ever, with listings that cover both the main publishing centres of New York and London, as well as markets in other English-speaking countries. With more and more agents, publishers, and magazines accepting submissions online, this international outlook is now more important than ever.
There are no adverts, no advertorials, and no obscure listings padding out hundreds of pages. By including only what's important to writers – contact details for literary agents, publishers, and magazines – this directory is able to provide more listings than its competitors, at a lower price.
The book also allows you to create a subscription to the firstwriter.com website for free until 2025. This means you can get free access to the firstwriter.com website, where you can find even more listings, and also benefit from other features such as advanced searches, daily email updates, feedback from users about the markets featured, saved searches, competitions listings, searchable personal notes, and more.
"I know firsthand how lonely and dispiriting trying to find an agent and publisher can be. So it's great to find a resource like firstwriter.com that provides contacts, advice and encouragement to aspiring writers. I've been recommending it for years now!"
~ Robin Wade; literary agent at the Wade & Doherty Literary Agency Ltd, and long-term firstwriter.com subscriber
The print and ebook versions are both available to buy now at https://www.jpandadyson.com/books/writers_handbook.php.
Self-Publishing Update
By G. Miki Hayden
Instructor at Writer's Digest University online and private writing coach
firstwriter.com – Monday August 7, 2023
According to an April 2023 survey by the (UK) Alliance of Independent Authors (ALLi), income of self-published authors increased substantially in 2022 over 2021, coming in at a median amount of $12,749, a figure actually higher than those of authors at traditional publishers. The 2,200 respondents to the survey were from all major English-speaking countries (with more than half from the U.S.).
A quarter of those replying had released their first book in 2020, while 60 percent reported first publishing in 2015-2022. Over half said they'd published more than 10 books on their own, while 20 percent had published more than 30 titles. Romance, fantasy/sci fi/speculative, and crime/thriller/detective novels were by far the most prevalent genres in which self-publishers were active.
Author M. J. Rose may have started the drive to self-publish, or some of it, when in 1998, she self-published her erotic-suspense novel Lip Service about the world of phone sex, a novel that had been rejected by all the agents and publishers she'd queried. Online, she sold 2,500 books (which is quite a lot), and the novel was after that acquired by Pocket Books. Other authors jumped into the self-publishing arena, or tried, and later Rose said, "I couldn't do it now." She did it because then the field was ripe and not yet harvested. However, Rose did set a model for other authors to imitate; and following persistently, some authors flourished. Not all thrived, however, and though self-publishing became and stayed "a thing," the niche not too long after seemed to have lost its luster.
But now, something appears to be going on. Authors are self-publishing again. Some are bringing out their backlists, and others are simply spending a little money and getting into the game. I talked to four self-publishing authors. See if you can identify with or be inspired by any of their paths.
Some of this month's news for writers from around the web.
Lex raises $2.75M for its AI writing tool that helps writers get past blocks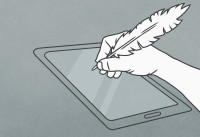 techcrunch.com – Thursday August 24, 2023
Lex, an AI-powered writing tool, today said it has raised a $2.75 million seed round led by True Ventures. The company has been spun out of Every, which Lex's CEO Nathan Baschez helped start.
Baschez described Lex as a "modern writing platform," emphasizing that 'modern' in this case means inclusive of AI. In the CEO's eyes, the use of AI in writing tools is the continuation of the centuries-long arc of improvements to the practice of writing.
According to Baschez, most writers today do not use AI in their workflow. That claim tracks with what I have heard from my friends in the larger writing community. Lex, then, has to not only build a solid writing service in a market that has a number of incumbent and low-cost tools, but also get writers interested in using technology that some folks expect to take away their jobs.
Publisher boosts investment in Yorkshire with office expansion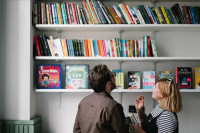 thebusinessdesk.com – Thursday August 24, 2023
Publishing group Hachette UK is expanding its national office in Sheffield.
The 23-strong team has moved to a workspace previously used by Twinkl, an education business founded in Sheffield.
Hachette UK now has 120 staff based across the cities of Manchester, Bristol, Edinburgh, Newcastle and Sheffield.
The Sheffield team includes staff from eight different publishing divisions and a similar number of job functions, with particular strengths in editorial, marketing, sales, rights and IT.
Julie McDonald commentary: Learn to write fiction and nonfiction at writers' conference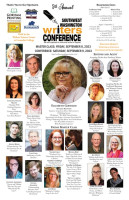 chronline.com – Wednesday August 23, 2023
Do you want to write your memoirs? Are fictional characters running around in your head, begging for you to tell their story? Do you have a love story pining for release? Did you experience a chapter in life that would make a good piece for Chicken Soup for the Soul? Do you want to write for local publications?
Anyone interested in connecting with local writers and learning from published authors throughout the Pacific Northwest should consider registering for the all-volunteer-run Southwest Washington Writers Conference at Centralia College the weekend after Labor Day. All proceeds from the nonprofit conference benefit scholarships offered through the Centralia College Foundation. Each day, writers will receive a scrumptious lunch from Dawn's Delectables.
Writers can select from among 24 workshops on Saturday, Sept. 9, and those who want more intensive training can register for the Friday master class on editing manuscripts and earning a paycheck writing for newspapers and magazines. To make that easier, we've invited two local editors, Eric Schwartz of The Chronicle and Krysta Carper of Lewis Talk and Thurston Talk, to meet with writers and discuss how freelancers can submit work for publication.
A selection of the new listings added to firstwriter.com this month.
New Literary Agent Listing: Molly O'Neill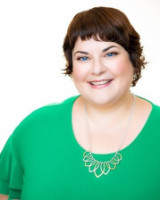 firstwriter.com – Wednesday August 16, 2023
If I can visualize exactly how to form a web of connections around a book and its creator while I'm reading an early draft, then it's a fantastic signal that I also know how to help that author or artist build their way into a meaningful, and potentially lucrative, career.
New Publisher Listing: Otago University Press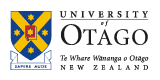 firstwriter.com – Tuesday August 15, 2023
Publishes books of scholarly and cultural significance that enrich society. Produces a range of non-fiction books on New Zealand and the Pacific, focusing on history, Māori/Pacific, natural history, contemporary issues, biography/memoir, essays and creative non-fiction, literature and the arts. Also publishes a small amount of poetry as well as New Zealand's longest-running and leading journal of new writing and art.
New Magazine Listing: ES Magazine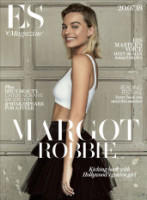 firstwriter.com – Wednesday August 9, 2023
Weekly lifestyle and culture magazine celebrating the thriving culture, art, fashion, beauty, food, film and theatre scenes in London.
Some of this month's articles for writers from around the web.
My children's book about India was rejected because I'm white
whyevolutionistrue.com – Saturday August 26, 2023
As you may recall, several years ago I wrote a children's book called Mr. Das and his Fifty Cats. In 2022, I mentioned it (and my travails finding a home for it) here, where I gave a brief description:
"Mr. Das and his 50 cats" [is] a fictional work that is actually based heavily on a real person: Birendra Das, one of India's most famous sweetmakers (his business, K. C. Das and company, is famous in Kolkata). I stayed with Mr. Das in Bangalore (now called "Bengaluru") to do "field work" observing his life and his cats, and found that he indeed had around fifty cats, whose names I learned. Around these facts—and the knowlege that Mr. Das took all of those cats in as strays—I wove a fictional tale about the cats invading the factory in times of famine and eating all the milk, cream, and yogurt. (Indian sweets are heavily laden with sugar and dairy products.) The story of how that led to the closure of Mr. Das's sweet business, and then how the cats fixed the situation in the end, is the subject of my book.

I quite liked the story, as did others, including parents of small children and school teachers to whom I vetted the book (the story is meant for kids from about first to fourth grades). I got a lot of good suggestions before it arrived at its final incarnation.
Eventually, on the advice of my agent (who doesn't handle non-science books), I sent the manuscript to a well known agent in England, who worked with a very famous illustrator. They both liked the book a lot and agreed to provide illustrations, which, given the fame of the illustrator, would almost guarantee publication.
I got a few illustrations, but then: radio silence. This lasted for months, and every six months I'd email to ask what was going on. I'd get some reply that finding a publisher was still in the works. Then, more radio silence. This went on for several years, and I grew increasingly depressed.
Literary Agents - Unfit For Purpose?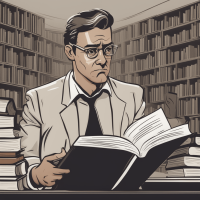 dailykos.com – Saturday August 26, 2023
Like many authors, I've long wondered what added value agents add to the publishing industry. Disclaimer: I have never had an agent, and I value Independent Publishers.
I shall not mention this agent's name and I will paraphrase what she wrote to the Twitter (X) Writing Community. So it wasn't a personal reply, this counts as an announcement.
She said that when a writer is passed over by an agent, the writer shouldn't assume it was a quality of prose issue. And that she just passed on a "most delightful, well-written manuscript". One that she felt sure was going to sell.
An agent's job is to sell books to publishers. Some also edit. Let's think for a moment about the art of selling. (Disclaimer: ex sales manager.) If I am trying to sell a product, I don't give a damn whether or not the salesperson "falls in love with" or "has a special spark" about it. No, I want him to make his quota, preferably more.
Where are today's modernists?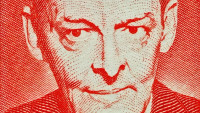 thebookseller.com – Wednesday August 23, 2023
A hundred years ago modernism was reinventing the rules of poetry with linguistic innovation and experimentation, pushing readers into a new relationship with the world via the word. Poets found fresh ways of expressing through style and form and publishers provided the engine room to connect their work with readers. So, what happened to this populism of the difficult? Today this tradition of experimentation has moved into underground channels where some of our most dynamic poets are creating incredible work, outside the earshot of major publishers.
Last year saw the centenary of The Waste Land. There were Eliot-themed events and even a festival called fragments, which took place across twenty-two City of London churches. The 1923 centenary should also be celebrated as a century ago this year was an incredible year for poetry. Wallace Stevens published Harmonium, his first collection of poetry completed at the age of 44. Stevens' work brought a striking philosophical angle to modern poetry, demonstrating that everything that poetry could do existed in the imagination; not the world as it is, but as the mind – and language – perceives it.
Information about this newsletter and the firstwriter.com site.
Resources for writers
Go to firstwriter.com for the following invaluable resources for writers:
Advertise
To advertise on this newsletter for as little as $30 / £20 click here
Submit
To submit articles, news items, press releases, or any other items of interest to writers, click here
This newsletter has been compiled by firstwriter.com and is protected by copyright. It may not be copied, forwarded, or otherwise distributed in whole or in part without firstwriter.com's written consent.
While every effort is made to ensure that all information contained within this newsletter is accurate, readers are reminded that this information is provided only as a list of potential leads that the reader should follow up with his or her own investigations. Unless otherwise stated, firstwriter.com is not associated with and does not endorse, recommend, or provide any assurances relating to any of the organisations, events, persons or promotions contained within this newsletter, and cannot be held responsible for any loss incurred due to actions taken in relation to information provided. Inclusion does not constitute recommendation.
Please do not reply to this email. The address from which this has been sent is not capable of receiving emails and sending an email to it may cause your subscription to stop. If you have any queries or require any assistance please contact us by going to https://www.firstwriter.com/contact_us.shtml
© firstwriter.com 2023