Why Would Someone Steal Unpublished Manuscripts?
nytimes.com – Tuesday March 14, 2023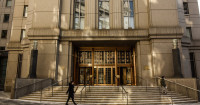 Filippo Bernardini has been accused by the government of stealing over 1,000 book manuscripts. In court filings, he said he was motivated not by money but by a love of reading.
For more than five years, someone was stealing unpublished book manuscripts from editors, agents, authors and literary scouts. The question of who was behind the scheme baffled the publishing industry, but just as perplexing was another question: Why?
Most unpublished manuscripts would be almost impossible to monetize, so it wasn't clear why somebody would bother to take them. Filippo Bernardini, who has pleaded guilty in a fraud case in which the government said he stole more than 1,000 manuscripts, offered an explanation on Friday in a letter addressed to a federal judge.
Bernardini said he stole the books because he wanted to read them.
To read the full article on nytimes.com, click here