Trade associations hit back as 300 authors accuse publishers of 'undermining libraries'
thebookseller.com – Sunday October 2, 2022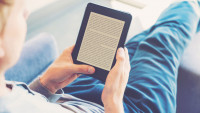 More than 300 authors including Neil Gaiman, Naomi Klein, and Lawrence Lessig have teamed up with advocacy group Fight for the Future with an open letter demanding publishers and trade organisations "cease efforts to undermine the essential contributions of libraries to an accessible and inclusive world of books".
The letter mainly focuses on the lawsuit brought against the Internet Archive, over its Open Library programme, involving mass scanning and distribution of literary works under a process called Controlled Digital Lending (CDL) which publishers and trade organisations have criticised for "facilitating the distribution of millions of pirated books without paying a penny to the authors and publishers who produce them".
There is also reference to the Association of American Publishers (AAP) suing to block a Maryland law that would have required publishers to offer commercially available e-book licences to libraries on "reasonable terms".
The Authors Guild called the open letter "highly misleading" while the AAP and Publishers Association (PA) have sought to stress that the Internet Archive is "not a library" but instead "a pirate website".
To read the full article on thebookseller.com, click here