The Soho Review, A Whip-Smart New Humor Magazine, Is Giving The Downtown Literati A Laugh
guestofaguest.com – Thursday July 28, 2022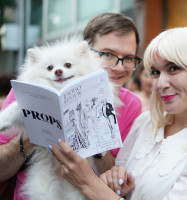 Feel like your sense of humor has been permanently warped by TikTok videos and Twitter memes? Do you look back fondly at a time when you could appreciate a punch line that wasn't delivered in 280 characters or less? Have you forgotten how to physically turn a page?
We just might have the antidote to your perpetual Social Media Brain.
The treatment involves a hefty dose of clever comedy courtesy of The Soho Review: New York's Best and Only Humor Magazine. As they say, laughter is the best medicine.
And the buzzy new publication certainly has the smart set laughing. Launched by a trio of New York City creatives, The Soho Review is a collection of jokes, cartoons, poetry, short stories (and more) that fills the void where irreverent and intelligent humor used to be... especially in print.
To read the full article on guestofaguest.com, click here