Strong year for Children's publishing as W H Smith unveils Books of the Year
thebookseller.com – Thursday November 14, 2019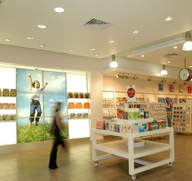 W H Smith has unveiled its Books of the Year, with the retailer recognising two children's books for the first time.
In recognition of the "diverse choice across children's publishing and the importance it plays in supporting literacy and engagement in young readers", W H Smith has chosen both bestselling rhyming read-aloud picture book Oi Puppies! (Hodder Children's Books) by Kes Gray and Jim Field, and the inclusive Izzy Gizmo and the Invention Convention (Simon & Schuster Children's UK) by Pip Jones and Sara Ogilvie as its Children's Books of the Year.
Beth O'Leary's debut novel The Flatshare (Quercus), which has sold 15,362 copies through TCM, has been named Fiction Book of the Year. W H Smith said the "brilliant rom-com" story of Tiffy and Leon who share a flat but have never met is "one of the most uplifting debuts of 2019".
To read the full article on thebookseller.com, click here
Recent News