Stop 'tampering with literature'! Publishers warned against cancelling classic authors after woke rewrites
gbnews.com – Saturday September 30, 2023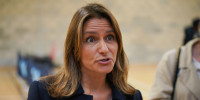 Woke rewrites of classic books "deprive children of valuable lessons on right and wrong", the Secretary of State for Culture, Media, and Sport has warned.
Lucy Frazer claims "tampering with literature" denies people "precious cultural heritage" as she warns publishers against cancelling authors.
Her comments come after books by authors such as Roald Dahl and Enid Blyton have recently been altered by their publishers.
In some instances, certain words and phrases which they now deem to be offensive have been removed.
However, the MP for South East Cambridgeshire says rewriting old texts is "infantilising".
To read the full article on gbnews.com, click here