Sterling Lord, uniquely enduring literary agent, dies at 102
uk.sports.yahoo.com – Monday September 5, 2022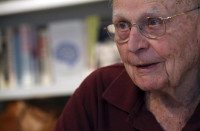 Sterling Lord, the uniquely enduring literary agent who worked for years to find a publisher for Jack Kerouac's "On the Road" and over the following decades arranged deals for everyone from true crime writer Joe McGinniss to the creators of the Berenstain Bears, has died. He had just turned 102.
Lord died Saturday in a nursing home in Ocala, Florida, according to his daughter, Rebecca Lord.
"He had a good death and died peacefully of old age," she told The Associated Press.
Sterling Lord, who started his own agency in 1952 and later merged with rival Literistic to form Sterling Lord Literistic Inc., was a failed magazine publisher who became, almost surely, the longest-serving agent in the book business. He stayed with the company he founded until he was nearly 100 — and then decided to launch a new one.
To read the full article on uk.sports.yahoo.com, click here