Showdown: DOJ's Bid to Block PRH Acquisition of S&S Is Heading to Trial
publishersweekly.com – Sunday July 24, 2022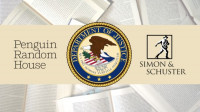 After a flurry of last-minute filings and orders, the U.S. Department of Justice's bid to block Penguin Random House's acquisition of rival Big Five publisher Simon & Schuster is ready for court. Oral arguments are set to begin on August 1 before Judge Florence Pan at the E. Barrett Prettyman U.S. Courthouse in Washington, D.C., with the trial expected to run nearly three weeks.
According to recent filings, 72 total hours have been allotted for arguments—38 hours for the government, and 34 hours for the defense. The witness lists include a few boldface names, including many of the Big Five CEOs, some major literary agents, and bestselling author Stephen King, who is listed as a witness for the government.
The closely watched case holds major implications for a publishing industry that has been grappling with consolidation for years. It also looms as a key test for the government amid growing calls for more vigilant antitrust enforcement, and in the wake of a stinging defeat in 2018 in its bid to block the massive $85 billion merger between AT&T and Time Warner.
To read the full article on publishersweekly.com, click here