Roald Dahl publisher to release original versions after backlash
reuters.com – Sunday February 26, 2023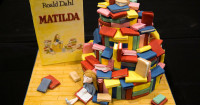 LONDON, Feb 24 (Reuters) - Roald Dahl's famous children's books including "Charlie and the Chocolate Factory" and "Matilda" will be published uncensored later this year said publisher Puffin, bowing to pressure after a public outcry over modernised versions.
British Prime Minister Rishi Sunak was among those to have criticised the "airbrushing" of literature on Monday after a report in The Daily Telegraph showed 2022 versions of the children's books had removed or changed references to gender, race and physical appearance to avoid causing offence.
The "enormously fat" Augustus Gloop from "Charlie and the Chocolate Factory" was just "enormous" in last year's version, while Mrs Twit from "The Twits" was no longer "ugly". News of the changes sparked a national debate.
To read the full article on reuters.com, click here