Prototype Publishing announces new writing prize
thebookseller.com – Thursday September 21, 2023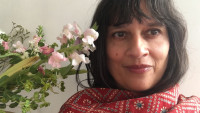 Prototype Publishing, along with partners Monitor Books and frieze magazine, has announced the Prototype Prize, a new, bi-annual prize for published or unpublished writers and artists working at the intersections of different literary and artistic forms.
The prize of £3,000 plus publication by Prototype will go to the best book-length project by a writer or artist resident in the UK or Ireland. A second prize of £2,000 plus publication by Monitor Books will be awarded to the best proposal for a short-form work. Both prize-winners will have an excerpt of their work published by frieze.
The judges for the inaugural prize are Bhanu Kapil pictured, Tom McCarthy and Elizabeth Price, who will work alongside an editorial board from the publishers.
To read the full article on thebookseller.com, click here