Penguin scraps $2.2bn deal to buy rival publisher
bbc.co.uk – Tuesday November 22, 2022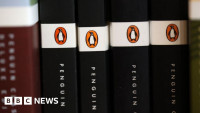 Publishing giant Penguin Random House has scrapped a $2.2bn (£1.9bn) planned takeover of rival Simon & Schuster.
Last month, a US court blocked the deal, saying it could "substantially" weaken competition in the industry.
Penguin's parent company Bertelsmann said Paramount Global, the owner of Simon & Schuster, decided not to appeal the ruling.
The proposed deal would have cemented Penguin Random House's position as the world's largest book publisher.
"We believe the judge's ruling is wrong" the company said in a statement.
"However, we have to accept Paramount's decision not to move forward," it added.
To read the full article on bbc.co.uk, click here