New Media Writing Prize opens for 2022 entries
bournemouth.ac.uk – Saturday July 2, 2022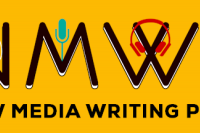 Bournemouth University's New Media Writing Prize (NMWP) is now in its 13th year and is open for entries searching for the best digital, interactive works of fiction or non-fiction.
Winners will receive prizes in the categories of interactive digital narrative, journalism, and literature. The main prize of £1,000.00 is sponsored by if:book, followed by £500.00 for both best journalistic piece and the people's choice category, sponsored by FIPP media and Wonderbox digital retrospectively. The competition is free to enter.
The judging panel is comprised of Bournemouth University's Principal Academic in English & Communication, Dr Jim Pope, and Research Associate on the Ego-Media Project at Kings College London, Lisa Gee. More names will be announced in the coming months.
To read the full article on bournemouth.ac.uk, click here