New Magazines Database launched
firstwriter.com – Sunday April 24, 2016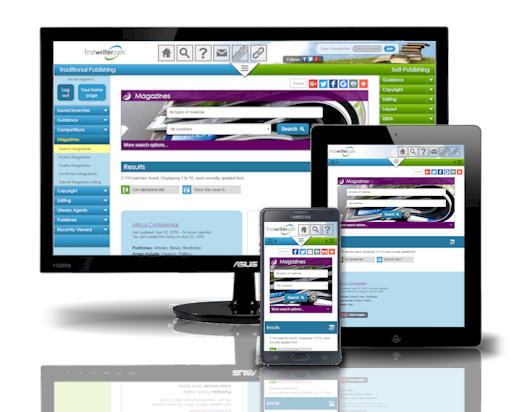 firstwriter.com has recently relaunched its famous Magazines Database with a new look, and brand new search features that make finding magazines to publish your writing easier than ever.
You can head on over to https://www.firstwriter.com/magazines to test drive the new system right now. You don't even need to be a subscriber to try out the new search facility – anyone can give it a go!
Here's a summary of the top 10 new features:
1. Picking genres
One of the first things you'll notice is the box for selecting genres. In the old days, this was a tiny box with all the different categories, subjects, markets, and styles in a great long list – most of which you couldn't see. This made it hard to see the different options available, hard to see what you'd already selected, and if you wanted to make multiple selections you had to hold down control (or the Apple key) while you clicked:
Not so in the new system! Now, when you click on the box, the whole screen fills with the options you have available, making it much easier to see what's there:
You don't need to hold down any keys to make multiple selections – just click all the options you want, or click them again to remove them. When you confirm your selection it gets placed in the search box in an easy-to-read format, in a box that will expand as required so you can see your entire selection, making it easier to see exactly what it is you're searching for:
2. Preview search results
As you make changes to your search options you now get a preview of how many results your search will find, so that you can see exactly how each option is affecting the number of results you will get. This helps you make better, more targetted searches, without having to keep pressing the "Search" button:
3. All of the search options, all of the time
In the past, the advanced search options could only be accessed via a separate "Advanced Search" page. Now, however, this page has been scrapped, and all the search options are instead available at all times within the main search box. Just click the "More search options" bar at the bottom of the search box to reveal up to three additional layers of options with which to really refine your search:
4. Pick up where you left off
Going back to your last search is now easier than ever. When you return to the search page after a break, the page will automatically populate with your last search on that device, saving you having to enter all the options all over again.
5. The new reset/undo button
If you want to start a fresh search, you can easily clear all the search options with a click of the new "Reset" button:
The button then turns into an "Undo" button, which you can use to instantly recover all the search options you just cleared, in case you change your mind:
6. Navigate the results pages with ease
Get direct access to any page in the results with our new "Go to page" feature. This allows you to jump to any page in the results, without having to click through a ream of other pages to get there. You also get direct buttons for next page, previous page, first page, and as many specific pages around the current page as will fit in the width of your screen:

7. Improved notes system
Notes are now easier to use and more visible on listings where you apply them. You can now access the Notes functions from a button which stays in the bottom-right of your screen, no matter where in the listing you scroll. Similarly, when you've added a note, it will no longer be fixed to the top of the listing, but will remain visible as you scroll down. You can move the notes anywhere on the page, and change their size and shape as required. If you want to clear all the notes out of the way, you can minimise them with a single click. Once minimised, you can use the Notes button to view them in the Notes Tray, and bring them back out of the tray either one at a time or all together:
8. Request updates
The new "request update" button appears at the top of every listing. It lets you make a request for the listing to be updated, with an option to supply any information you have which you think might be important:
9. View history
Alongside the request update button you'll find the new "view history" button, which lets you see the history of updating on a listing:

10. Mobile friendly
The new version of the magazines database will adapt how it displays to suit the screen it's on, so it's as easy to use on your phone or your tablet as it is on your computer.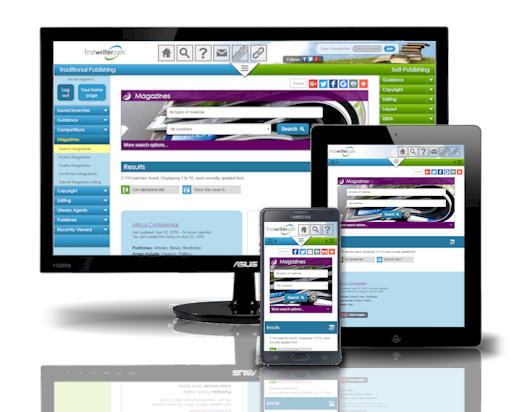 To try it out now go to https://www.firstwriter.com/magazines