National Poetry Anthology seeks submissions
firstwriter.com – Monday June 6, 2016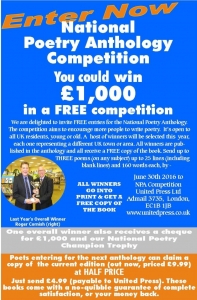 The National Poetry Anthology is seeking submissions of poetry from across the UK by June 30, 2016.
Entry is free and over 100 winners will be selected this year. Each will receive a free copy of the book. One overall winner also gets £1,000 and a trophy to keep for life.
"The National Poetry Anthology is designed to encourage new writers," said its editor, Peter Quinn. "We want the new edition to include a winner from every town and village across the United Kingdom. So far, we haven't had enough entries to achieve that."
If you would be interested in contributing, send three unpublished poems on any subject (up to 25 lines including blank lines and 160 words each) to United Press Ltd, Admail 3735, London, EC1B 1JB by the closing date of June 30, 2016. Enclose a loose stamp if you want a reply. Alternatively, send your entry by email to info@unitedpress.co.uk.
For more details, go to http://unitedpress.co.uk