Meet the upstart publishers taking a chance on print
ft.com – Thursday September 13, 2018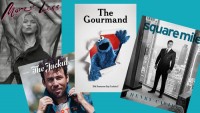 Please use the sharing tools found via the share button at the top or side of articles. Copying articles to share with others is a breach of FT.com T&Cs and Copyright Policy. Email licensing@ft.com to buy additional rights. Subscribers may share up to 10 or 20 articles per month using the gift article service. More information can be found here.
https://www.ft.com/content/c151b846-7b8d-11e8-af48-190d103e32a4

Walk into the newsagent in London's upmarket Selfridges department store or the bookshop at the Tate Modern art gallery, and you will find row after row of independent consumer magazines, often with hefty cover prices. As traditional print magazines battle with declining advertising revenues and struggle with the rise of digital publishing, a shift is happening in the niche independent publishing sector. From The Gourmand, a journal about food and culture, to The Jackal, a men's luxury lifestyle magazine, a raft of start-ups are venturing into print.
To read the full article on ft.com, click here
Recent News