Loch Long crime writing residency launched
thelochsidepress.com – Friday November 10, 2023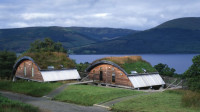 A new two-week residency for crime writers has been launched by Cove Park.
The fully-funded programme is for Scotland-based writers developing new work in crime fiction and scheduled to run in late March next year.
The writer will receive a total residency fee of £1,100 (£550 per week) and a travel allowance of up to £75 from the arts centre on the Rosneath Peninsula.
To apply, writers must be based in Scotland and have published at least one book with a traditional publisher.
To read the full article on thelochsidepress.com, click here