Joyce Carol Oates calls out the censorship of white, male authors
thepostmillennial.com – Tuesday July 26, 2022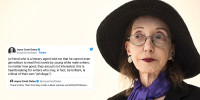 Celebrated American author Joyce Carol Oates noted a literary trend on Sunday, which is that writing by white male authors is in a negative demand. She wrote that work by white male authors will not even be seen due to their race and sex. While Oates noted this issue on Sunday, it has been building in the arts community since at least 2004, as I wrote about in 2019.
"[A] friend who is a literary agent told me that he cannot even get editors to read first novels by young white male writers," Oates wrote, "no matter how good; they are just not interested. this is heartbreaking for writers who may, in fact, be brilliant, & critical of their own 'privilege.'"
Oates stated that this was "heartbreaking" for those writers who buy into the ideology of white privilege, and who may even be "critical" of it, but it is just as hard a pill to swallow for those white male writers who are not burdened by the inherent detriments associated with their race and sex.
To read the full article on thepostmillennial.com, click here