Evans and Virginia to launch Inkspot Publishing list
thebookseller.com – Wednesday September 6, 2023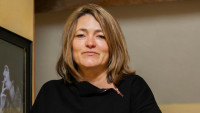 Catherine Evans and Jurcell Virginia have launched a new publishing company, Inkspot, and will be hosting a launch event in Piccadilly, London on Tuesday 26th September, to celebrate the publication of its first two titles.
Founder and publishing director Evans acquired world rights for all the titles Inkspot has acquired so far.
Evans is a trustee and long-time supporter of ChipLitFest and the founder of Fiction Junkies. Virginia started his career in hedge funds, then moved to private equity. He is an avid martial arts fanatic and has written a book with his sensei, Hideo Muramatsu, The Neglected Samurai, which will be published by Inkspot in 2024.
To read the full article on thebookseller.com, click here