Demand for creative writing courses outpaces supply
stanforddaily.com – Tuesday November 7, 2023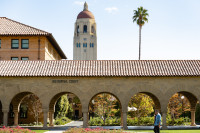 It might seem that putting words to paper is hard, but for those interested in creative writing classes, it might be more difficult to get into a class.
Many creative writing courses are known for their long waitlists and enrollment caps, but the root of the issue lies with a low supply of lecturers and courses to meet the high student demand for courses. The low supply of lecturers stems from an even larger problem: funding.
For Kathaleen Mallard '25, it was incredibly difficult for her to get into the creative writing classes she wanted, even as an English major with a creative writing emphasis.
"I feel like the demand was obviously much greater than the amount of classes that there were, so it was hard to get into anything," Mallard said. Some of her courses required course enrollment forms, but seniority remained a large factor of selection, making it difficult to enroll into the classes that were part of the core major requirements.
Mallard believes that this could affect students in the future who wish to pursue an English major with a creative writing emphasis or a creative writing minor, who may not get to explore classes in the department because of low enrollment caps. She also raised the waitlist experience for creative writing courses. Since most people are unlikely to drop their spots in class, it's really hard to get off the waitlist for these classes, Mallard said.
To read the full article on stanforddaily.com, click here