Conservative children's publisher Brave Books debuts with 'Elephants Are Not Birds'
nypost.com – Sunday July 25, 2021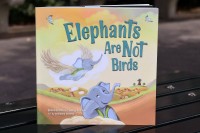 A new conservative publishing house wants to get the "wokeness" out of bedtime.
Launching this week, Brave Books will focus exclusively on stories for kids, and offers parents "a conservative alternative to the current cultural activism that our children are being taught in schools, in the entertainment they watch and the books they read," according to their website.
Company CEO Trent Talbot, who had his first child a little more than a year ago, conceived of Brave Books when, he said, he started to notice "that there is a real war going on for the hearts and minds of our kids. And everywhere I looked was propaganda," the Montgomery, Texas-based dad told The Post.
To read the full article on nypost.com, click here
Recent News