Carter founds new literary agency after 10 years at Janklow & Nesbit
thebookseller.com – Wednesday January 18, 2023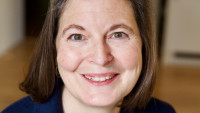 Literary agent Rebecca Carter has launched Rebecca Carter Literary after 10 years at Janklow & Nesbit.
The new agency, which is already up and running, is working in collaboration with PEW Literary in Soho, London, for contracts, accounting and translation rights. Carter can be contacted at rebecca@rebeccacarterliterary.com and Margaret Halton can be reached at margaret@pewliterary.com for foreign rights enquiries.
The agency has already closed two deals: with Kaiya Shang at Chatto & Windus for a new memoir by Xiaolu Guo, and with Sarah Braybrooke at Ithaka for a "powerful" narrative non-fiction book about Ukraine by the BBC's Andrew Harding. More information on these acquisitions will be forthcoming from the publishers, The Bookseller understands.
To read the full article on thebookseller.com, click here