Baldwin and McCalmont launch new scouting agency Zephyr
thebookseller.com – Thursday June 9, 2022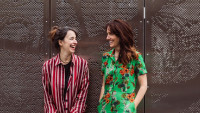 Literary scouts Naja Baldwin and Katie McCalmont have joined forces to launch a new international consulting and scouting agency called Zephyr.
The new agency is based in Soho, central London. It scouts UK and international books for publishers and film and TV companies, and has already signed up its first clients, including Hanser Verlag in Germany, Nieuw Amsterdam, Podium and Fontaine (Park Publishers) in the Netherlands, Polaris in Sweden, Kagge in Norway and Todavia Livros in Brazil.
Baldwin said: "Zephyr is named after the west wind, bringing change, warmth and fresh ideas. This captures the energy we want to bring to our new venture. I can't think of a better partner than Katie to launch this agency with — she's an innovative and creative thinker, bold in her ambitions and an absolute joy to work with."
To read the full article on thebookseller.com, click here