Aphelion celebrates its 20th birthday
firstwriter.com – Saturday January 14, 2017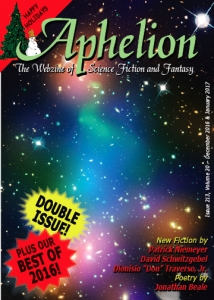 Aphelion: The Webzine of Science Fiction and Fantasy began it's run as a non-profit, free webzine promoting new and upcoming writers in February, 1997. On February 5th, 2017, Aphelion will celebrate the publication's 20th birthday. The magazine is still provided for free, and without ads or subscriptions. To mark this anniversary, the magazine will feature "Best Of" selections from throughout it's long history in each issue during the year, in addition to its usual fiction offerings.
The magazine was started by Dan Hollifield as a successor to the late Dragon's Lair webzine. In Aphelion, he provided a stepping stone publication for writers to hone their craft as they worked up to professional markets. To date, it's estimated that over 200 writers who appeared in the magazine's 2,600 published pieces advanced to professional status. Hollifield, himself a factory worker, never looked for monetary gain. In his words, "My reward is seeing the messages from our writers who proudly announce, 'I made a sale!' That's tempered with the knowledge that we won't see many more submissions from those writers in the future."
The webzine started with long and serialized stories, short fiction, and reviews in science fiction and fantasy. Now, in addition to their original offerings, Aphelion also publishes flash fiction, poetry, feature articles, and pieces in three different shared writing universes. Also, the magazine added horror to its genre selections. Their editors run a lively forum with over 1,500 topic threads and nearly 20,000 posts. There is also a monthly, forum-based flash fiction contest.
Aphelion is published 11 times a year with a double issue in December. The magazine is run entirely by unpaid volunteers and does not offer royalty payments.
For more information, click here