Amazon, major publishers win dismissal of antitrust lawsuits over book pricing
reuters.com – Saturday October 1, 2022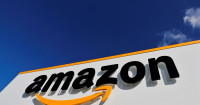 A federal judge on Thursday dismissed two antitrust lawsuits accusing Amazon.com Inc and five large publishers of illegally conspiring to fix U.S. prices of electronic and traditional books, causing consumers and bookstores to pay more.
U.S. District Judge Gregory Woods in Manhattan accepted a magistrate judge's recommendations to end both cases against Amazon, Hachette Book Group, HarperCollins Publishers, Macmillan Publishing Group, Penguin Random House and Simon & Schuster.
Consumers accused the defendants of signing agreements that let the publishers inflate e-book prices by locking in a 30% "agency" fee for Amazon on each sale, and guaranteeing that Amazon's prices would not be undercut.
To read the full article on reuters.com, click here