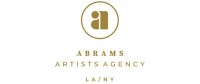 Abrams Artists Agency announced it is starting the new year with a round of promotions at the company that include upping three to partner, six to senior agent, and the minting three new agents.
The Los Angeles-based Amanda Marzolf has been upped to partner in Abrams alternative programming, digital media, licensing & branding division. Since joining Abrams in 2014, Marzolf has focused on the development of social media/digital personalities and spearheaded the agency's podcasting business.
Longtime Abrams agent James Murray has taken on the title of partner within the voice-over division. Since he joined Abrams in 2008, Murray has worked across commercial, television, feature animation, interactive, promos, and narration, including representing talent in hit television shows and feature films.
To read the full article on celebrityaccess.com, click here