2021 edition of Writers' Handbook now available to buy
firstwriter.com – Saturday November 21, 2020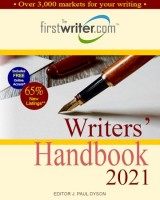 The 2021 edition of firstwriter.com's bestselling directory for writers is out now, and represents the biggest overhaul of the book to date!
The number of listings of literary agents, publishers, and magazines has increased dramatically – from just over 1,300 in the last edition to over 3,000 in the new one. In fact, there are so many new listings that we've increased the page size by 70% to accommodate them. The new page size makes the book even easier to use as a physical object: while thicker books with smaller pages refuse to stay open on the page you want, the 2021 edition of The Writers' Handbook is much happier to lay open at the page you leave it on.
The new edition includes revised and updated listings from the 2020 edition, as well as over 2,000 brand new entries. And it's not just the number of entries that makes this the best directory for writers seeking markets for their writing. Finding the information you need is now quicker and easier than ever before, with new tables and an expanded index, and unique paragraph numbers to help you get to the listings you're looking for.
A variety of new tables help you navigate the listings in different ways, including a new Table of Authors, which lists over 3,000 authors and tells you who represents them, or who publishes them, or both.
The number of genres in the index has exploded from under 100 in the last edition to over 500 in this one. So, for example, while there was only one option for "Romance" in the previous edition, you can now narrow this down to Historical Romance, Fantasy Romance, Supernatural / Paranormal Romance, Contemporary Romance, Diverse Romance, Erotic Romance, Feminist Romance, Christian Romance, or even Amish Romance.
The new edition includes:
128 pages of literary agent and literary agency listings – that's nearly as much as the Writer's Market (75 pages) and the Writers' & Artists' Yearbook (39 pages) combined!
82 pages of book publisher listings, compared to 91 pages in the Writers' & Artists' Yearbook – but with a page size more than 70% larger this is like getting an extra 50 pages.
64 pages of magazine listings compared to 63 pages in the Writers' & Artists' Yearbook. Thanks to the difference in page size, this is the equivalent of 40 extra pages.
All in a book that is 30% cheaper than the Writer's Market ($29.99 RRP), and more than 50% cheaper than the Writers' & Artists' Yearbook (£25.00 RRP).
International markets become more accessible than ever, with listings that cover both the main publishing centres of New York and London, as well as markets in other English speaking countries. With more and more agents, publishers, and magazines accepting submissions online, this international outlook is now more important than ever.
There are no adverts, no advertorials, and no obscure listings padding out hundreds of pages. By including only what's important to writers – contact details for literary agents, publishers, and magazines – this directory is able to provide more listings than its competitors, at a substantially lower price.
The book also allows you to create a subscription to the firstwriter.com website for free until 2022. This means you can get free access to the firstwriter.com website, where you can find even more listings, and also benefit from other features such as advanced searches, daily email updates, feedback from users about the markets featured, saved searches, competitions listings, searchable personal notes, and more.
"I know firsthand how lonely and dispiriting trying to find an agent and publisher can be. So it's great to find a resource like firstwriter.com that provides contacts, advice and encouragement to aspiring writers. I've been recommending it for years now!"
~ Robin Wade; literary agent at the Wade & Doherty Literary Agency Ltd, and long-term firstwriter.com subscriber
The print version is available to buy now at https://www.jpandadyson.com/books/writers_handbook.php, with an ebook version to follow soon.