#shareyourrejection is exactly the hashtag we need right now
artshub.com.au – Thursday August 23, 2018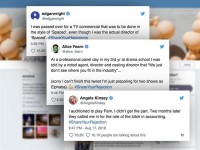 It hasn't quite taken off in Australia yet, but hopefully that is only a matter of time. Maybe Peter Dutton will get us started.
#shareyourrejection is the latest hashtag to highlight the reality of rejection in the arts and creative industries, and to show once again that resilience is key to any creative career.
This will make you laugh and wince and understand the poetic power of revenge.
To read the full article on artshub.com.au, click here
Recent News