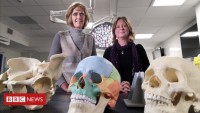 Whether it is Ian Rankin's world-weary Inspector Rebus or the windswept murder mysteries of BBC Scotland's Shetland, home-grown crime fiction is big business.
But with fans more clued-up than ever, is getting the forensic science right in novels and television series important?
Dundee University seems to think so.
The university launched its MLitt in Crime Writing and Forensic Investigation in 2017, the first course of its kind in the UK.
With Scottish crime writers more popular than ever and the continued success of literary festivals like Stirling's Bloody Scotland and Aberdeen's Granite Noir, many fans are not just content to know "whodunnit", but how it was done, too.
To read the full article on bbc.co.uk, click here