'Very scary time' for Irish book publishers as print and paper costs soar
irishtimes.com – Monday November 21, 2022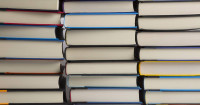 Irish book publishers say it is a "very scary" time for the industry, with supply chain issues and the rising cost of paper and printing putting significant pressure on profitability.
Ivan O'Brien, managing director of O'Brien Press, said the company's costs have risen "massively", with increases of about 50 per cent.
"As we got squeezed from every other angle, print availability at a reasonable cost was something that we could rely on, and that is now gone," he said.
"Timelines have also extended substantially, with another couple of weeks added to the schedule for most projects. Prices will have to go up, but it is unlikely that the market will take the level of increase required for the numbers to work. It's very scary."
To read the full article on irishtimes.com, click here