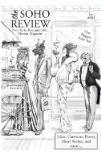 The Soho Review
Magazine
Last updated: August 16, 2022
Categories
Fiction
Cartoons
Comedy / Humour
Jokes
General
Short Fiction
Comedy / Humour
Poetry
Any Poetic Form
Comedy / Humour
Description
Humor magazine based in New York. Constantly looking for jokes, cartoons, poems, and short stories. Pitch ideas by email.
Approaches
How to approach
Email
What to send
Pitch
Contact
User feedback
There is not yet any feedback for The Soho Review.
If you have had any contact with The Soho Review (or have any in future), remember to leave feedback – whether positive, negative, or neutral – to help other users.
Notes for The Soho Review
Add
Note
Show
Notes
Hide
Notes
List
Notes
Notes