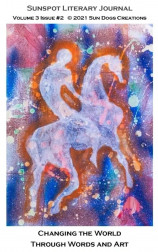 Sunspot Literary Journal
Print Magazine / Online Magazine
Established: 2019
Last updated: July 12, 2023
Categories
Fiction in Translation
Short Fiction
Fiction
Graphic Novels
Graphic Short Fiction
Novelettes
Novellas
Short Fiction
Poetry in Translation
Any Poetic Form
Scripts
Film Scripts
Theatre Scripts
Description
Since launching in January of 2019, this journal has amplified diverse multinational voices. New works have been published in their original language side-by-side with English translations. Boundaries that exclude meaningful and important works have been broken by accepting extremely long-form pieces, a rarity in publishing today.
Offers
Editor's prizes offered for one piece in each edition; cover art receives a stipend.
Costs
Offers services that writers have to pay for
A fee is charged upon submission in some cases
Offers a poetry feedback service and competitions for which there is an entry fee.
Extents
Fiction
Up to 49,000 words
Approaches
How to approach
Submittable
User feedback
There is not yet any feedback for Sunspot Literary Journal.
If you have had any contact with Sunspot Literary Journal (or have any in future), remember to leave feedback – whether positive, negative, or neutral – to help other users.
Notes for Sunspot Literary Journal
Add
Note
Show
Notes
Hide
Notes
List
Notes
Notes