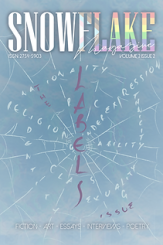 Snowflake Magazine
Print Magazine
Last updated: September 7, 2023
Categories
Fiction
Short Fiction
General, and in particular
LGBTQIA
Nonfiction
Articles
General, and in particular
LGBTQIA
Essays
General, and in particular
LGBTQIA
Interviews
General, and in particular
LGBTQIA
Poetry
Any Poetic Form
General, and in particular
LGBTQIA
Description
Publishes art, poetry, essays, flash fiction, photography, interviews and articles that are either queer themed or from an artist who identifies as LGBTQ+ (or both).
Offers
Print magazine publication
Approaches
How to approach
Online submission system
Online
Contact
User feedback
There is not yet any feedback for Snowflake Magazine.
If you have had any contact with Snowflake Magazine (or have any in future), remember to leave feedback – whether positive, negative, or neutral – to help other users.
Notes for Snowflake Magazine
Add
Note
Show
Notes
Hide
Notes
List
Notes
Notes