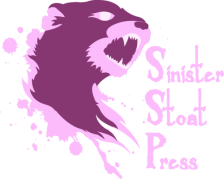 Sinister Stoat Press
Publishing Imprint
Last updated: April 25, 2023
Book Publisher
Categories
Fiction
Chapbooks
Dark Fantasy
Furries
Ghost Stories
Horror
LGBTQIA
Psychological Horror
Science Fiction
Sex
Supernatural / Paranormal Horror
Vampires
Werewolves
Novellas
Dark Fantasy
Furries
Ghost Stories
Horror
LGBTQIA
Psychological Horror
Science Fiction
Sex
Supernatural / Paranormal Horror
Vampires
Werewolves
Novels
Dark Fantasy
Furries
Ghost Stories
Horror
LGBTQIA
Psychological Horror
Science Fiction
Sex
Supernatural / Paranormal Horror
Vampires
Werewolves
Short Fiction Collections
Dark Fantasy
Furries
Ghost Stories
Horror
LGBTQIA
Psychological Horror
Science Fiction
Sex
Supernatural / Paranormal Horror
Vampires
Werewolves
Description
Horror publisher publishing Furry works, Queer Horror, Extreme Horror, Splatter Punk, Slashers, Paranormal Horror, Weird Horror, Vampires, Werewolves, Monsters, Cryptids (within reason), Sci-Fi horror, and Dark Fantasy. Only accepting work from Authors of Color, Authors who Identify as LGBTQ+, Authors with Disabilities, and Current and Former Sex Workers.
Approaches
How to approach
Submittable
Online
User feedback
There is not yet any feedback for Sinister Stoat Press.
If you have had any contact with Sinister Stoat Press (or have any in future), remember to leave feedback – whether positive, negative, or neutral – to help other users.
Notes for Sinister Stoat Press
Add
Note
Show
Notes
Hide
Notes
List
Notes
Notes