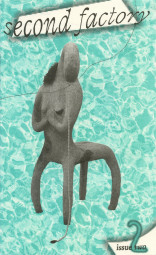 Second Factory
Print Magazine
Last updated: July 10, 2023
Book Publisher
Categories
Fiction
Short Fiction
General, and in particular
Experimental
Nonfiction
Short Nonfiction
General, and in particular
Experimental
Description
Publishes mainly poetry. Fiction and nonfiction will have a better chance if it is fairly short (more than 4 pages per contributor are not usually published) and if it has a fairly experimental and/or playful nature. 'Traditional' fiction and prose submissions are not as likely to be accepted, but open to surprises.
Approaches
How to approach
Submittable
What to send
Full text
Author bio
User feedback
There is not yet any feedback for Second Factory.
If you have had any contact with Second Factory (or have any in future), remember to leave feedback – whether positive, negative, or neutral – to help other users.
Add
Note
Show
Notes
Hide
Notes
List
Notes
Notes