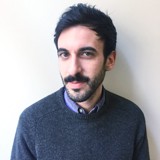 Nate Muscato
Literary Agent
Last updated: February 17, 2023
Literary Agency
Categories
Fiction
Novels
Fantasy
Literary
Science Fiction
Nonfiction
Nonfiction Books
Arts
Education
Politics
Popular Culture
Sociology
Technology
Description
Drawn to nonfiction that illuminates the past and present—from arts and pop culture to education, politics, sociology, and technology—and envisions more just and equitable futures. He is also interested in select genre fiction with literary trappings, sci-fi/fantasy stories that leap into new worlds yet reveal something radical about our own.
Approaches
How to approach
Online submission system
What to send
Author bio
Outline
Pitch
Market info
Writing sample
User feedback
There is not yet any feedback for Nate Muscato.
If you have had any contact with Nate Muscato (or have any in future), remember to leave feedback – whether positive, negative, or neutral – to help other users.
Add
Note
Show
Notes
Hide
Notes
List
Notes
Notes