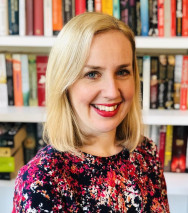 Kate Burke
Senior Agent
Last updated: January 20, 2023
Literary Agency
Categories
Fiction
Novels
Book Club Women's Fiction
Contemporary
Crime
Dark
Family
Gothic
High Concept Thrillers
Historical Fiction
Mystery
Thrillers
Women's Fiction
Fiction
Novels
Political Thrillers
Spy Thrilllers
Description
My list is made up of everything I like to read – gripping fiction featuring characters you can't get enough of and whom you don't want to part with at the end of a novel. I love dark stories but also uplifting love stories, too, and I'm keen to find more stories set in unusual or far-flung places. I love to learn more about a place and its inhabitants as I think fiction is all about escapism!

In terms of what I'm looking for: on the crime side, I love dark thrillers that keep me turning the page long into the night and that surprise me with plot twists and interesting narrative structures; crime series featuring new and fresh lead investigators; high-concept thrillers (contemporary or historical) that have a 'what if?' plot structure and say something about our society now or then.

On the historical fiction side, I love stories which combine a great sense of place and time (ideally, post-1800, please) with a mystery. I'm also a huge fan of anything set in a spooky old house so Gothic, atmospheric historical thrillers are also top of my wishlist!

Contemporary-wise, I love novels which have a discussable issue at their heart – and could work well for a heated book club discussion – as well as sweeping family stories about mothers, sisters and daughters (set anywhere in the world).

In case it's helpful to know what I don't represent: non-fiction, children's and young adult books, science fiction, fantasy, spy, conspiracy or political thrillers.
Approaches
How to approach
Word file email attachment
What to send
Query
Synopsis
Writing sample
Contact
User feedback
There is not yet any feedback for Kate Burke.
If you have had any contact with Kate Burke (or have any in future), remember to leave feedback – whether positive, negative, or neutral – to help other users.
Add
Note
Show
Notes
Hide
Notes
List
Notes
Notes