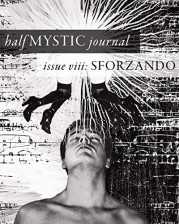 Half Mystic Journal
Print Magazine
Last updated: September 14, 2021
Book Publisher
Categories
Fiction in Translation
Short Fiction
Experimental
Music
Fiction
Short Fiction
Experimental
Music
Nonfiction in Translation
Short Nonfiction
Creative Nonfiction
Experimental
Music
Nonfiction
Short Nonfiction
Creative Nonfiction
Experimental
Music
Poetry in Translation
Any Poetic Form
Music
Experimental Poetry
Music
Poetry
Any Poetic Form
Music
Experimental Poetry
Music
Description
Publishes all genres of poetry, prose, creative nonfiction, translations, and experimental work—as long as each piece pertains in some way to music. See website for the theme of the current issue.
Approaches
How to approach
Submittable
What to send
Full text
Contact
User feedback
There is not yet any feedback for Half Mystic Journal.
If you have had any contact with Half Mystic Journal (or have any in future), remember to leave feedback – whether positive, negative, or neutral – to help other users.
Notes for Half Mystic Journal
Add
Note
Show
Notes
Hide
Notes
List
Notes
Notes