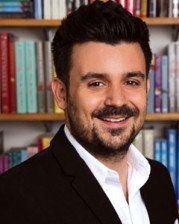 Dado Derviskadic
Literary Agent
Last updated: January 8, 2023
Literary Agency
Categories
Nonfiction
Nonfiction Books
Art History
Biography
Cookery
Cultural History
Fashion
Films
Food
Health
Motivational Self-Help
Nutrition
Philosophy
Popular Culture
Popular Science
Psychology
Religion
Spirituality
Sub-Culture
Description
I am primarily interested in: cultural history; biography; art history; film; religion and spirituality; psychology; philosophy; pop science and motivational self-help; health and nutrition; pop culture and subcultures; fashion; and food narrative and cookbooks.
Approaches
How to approach
In the body of an email
What to send
Query
Writing sample
Proposal
User feedback
There is not yet any feedback for Dado Derviskadic.
If you have had any contact with Dado Derviskadic (or have any in future), remember to leave feedback – whether positive, negative, or neutral – to help other users.
Notes for Dado Derviskadic
Add
Note
Show
Notes
Hide
Notes
List
Notes
Notes