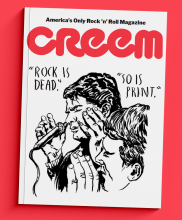 Creem
Magazine
Established: 1969
Last updated: August 25, 2022
Categories
Nonfiction
Articles
Rock Music
Reviews
Rock Music
Description
Revival of the magazine that describes itself as "America's only rock n' roll magazine".
Contact
User feedback
There is not yet any feedback for Creem.
If you have had any contact with Creem (or have any in future), remember to leave feedback – whether positive, negative, or neutral – to help other users.
Add
Note
Show
Notes
Hide
Notes
List
Notes
Notes