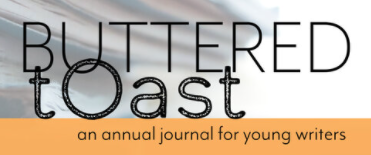 Last updated: October 24, 2022
Book Publisher / Self Publishing Service
Categories
Children's
Fiction
Short Fiction
Nonfiction
Essays
General
Short Nonfiction
Creative Nonfiction
Poetry
Any Poetic Form
Description
Annual journal publishing work by and for young people up to 18 years old.
Offers
Print magazine publication
User feedback
There is not yet any feedback for Buttered Toast.
If you have had any contact with Buttered Toast (or have any in future), remember to leave feedback – whether positive, negative, or neutral – to help other users.
Add
Note
Show
Notes
Hide
Notes
List
Notes
Notes